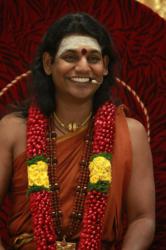 Hindu Identity has Utility
Los Angeles, CA (PRWEB) November 01, 2012
On 27th October, Southern California Hindu Community Leaders led by Dilip Butani (Chairman Indian Community of Southern California), hosted a Grand Event for His Holiness Paramahamsa Nithyananda and expressed their solidarity and support to stand by him to spread his global spiritual mission. A group of 50 VIPs (heads of different Federations and Organizations) were the invitees at an exclusive event for Nithyananda Mission hosted by the Sindu Center in Cerritos, California. Several devotees and volunteers of the Nithyananda Vedic Temple presented many different dimensions of Paramahamsa Nithyananda's spiritual mission.
Paramahamsa Nithyananda, appearing via live 2-way video conferencing, expressed his gratitude to the group for their leadership in standing by him during the continued religious persecution which he and his organization has been experiencing in the past two and half years. Thanking Paramahamsa Nithyananda for his message and blessings, the Hindu community leaders invited him to come to Los Angeles at the earliest possible date.
Among several interesting questions, a prominent community leader and philanthropist of California, Avadhesh K. Agarwal, asked Paramahamsa Nithyananda to bless the Hindu communities worldwide with a 'Mantra' to instill unity.
Paramahamsa Nithyananda answered with a pragmatic message, saying that "Hindu Identity has Utility" is the mantra which needs to be propagated across all the Hindu communities in the world. He said, the world, and especially Hindus themselves, need to recognize and understand why Hindu Identity is an asset in all dimensions including cultural, spiritual, economical, mental, moral and social.
"Hindu Identity is Utility" he said. Families with an upbringing of Hindu Vedic culture and values have less number of divorces, are well educated, less likely to be on anti-depressants, less likely to be on the US Government's welfare programs and are one of the most financially strong demographics in the U.S.
He praised the Non Resident Indians in US for contributing to 11% of the income tax in spite of being a minority community of just 1% of the population of US. They are most popular in the country as doctors and hoteliers, thus giving cure and care to the society. They are the only ethnic group who do not have any youth gangs.
Paramahamsa Nithyananda said that the Vedic culture, Vedic identity and Vedic unity is a utility and our responsibility to instill the confidence in Indians to be proud of their heritage and be confident enough to share it with the world. He said, it is especially more important for the Non Resident Indians of USA ('NRIs") to have this confidence and realize that Hindu Identity is the most successful identity, because the Hindus from around the world, including India, look up to them as role models in many aspects.
Among many facts and evidences of the religious persecution against Paramahamsa Nithyananda, the group also informally discussed how the revelations of the medical reports have completely exonerated Nithyananda of any wrong doing socially, morally and legally.
The event concluded with a grand 16 course Satvic (vegetarian meal prepared without onions, garlic, red or green chillies, sugar, dairy products) meal from the Nithyananda Vedic Temple kitchen (Annalaya).