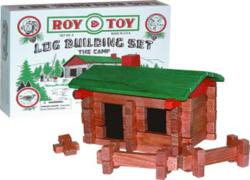 At Roy Toy we cherish our heritage, and as one generation ends, another is there to pick up where they left off. We like to think that some things never change. We hope your family enjoys our products and passes them on to the next generation
Elma, New York (PRWEB) November 02, 2012
The idea of an "American Holiday" is very popular among consumers and this year, customers will be looking for American made Candy, Toys, Clothes and more. The Made In America Store offers over 4,000 different products, including wooden building toys from Roy Toy. Consumers looking for toys that are both educational and fun need to look no further than Roy Toy.
Consumers who are looking to shop for holiday gifts that are both fun and American made can start at the Made In America Store!
The Made In America Store currently carries five different building sets from Roy Toy. Products offered are the Log Cabin Play Set, Mini Box Camp Set, Mini Can Tree House, Mini Canister Cabin and The Fort Play Set!
Looking for the educational and fun building sets from Roy Toy? Click here to start shopping today!
Roy Toy is a three-generation family of Maine toy makers that started back in the 1930's. The business started when the family would load a wagon filled with Roy Toy products and travel by horse to the train station and be delivered to other towns.
"The family heritage at Roy Toy started that day and ever since, the wooden toys at Roy Toy have been a staple in American made products. Roy Toy is one of the earliest pioneers in the wooden toy industry and they realized there was an intriguing love for wooden construction sets." Said a Roy Toy Representative.
In 1960, Roy Toy's found, Roy K. Dennison unfortunately died and the doors of the Roy Toy factory had closed. For 30 years the machines and the dreams of Roy were put on indefinite hiatus until Roy's grandson decided to take the business into his own hands.
In 1992, Bruce Dennison kept the handmade design to keep his wooden building toy sets looking just like his grandfather's. Roy Toy still cute their toys from pine logs and stains them with a non-toxic dye, creating the same bright red wooden gables and traditional green wooden roof planks as originally designed.
"At Roy Toy we cherish our heritage, and as one generation ends, another is there to pick up where they left off. We like to think that some things never change. We hope your family enjoys our products and passes them on to the next generation," said a Roy Toy Representative.
The Made In America Store is the only brick and mortar store that sells 100% made in the United States products from over 350 vendors. Consumers can visit http://www.MadeInAmericaStore.com or call 716-652-4872 to get more information or shop our catalog of over 3,500 items. Both Active Duty Military Personnel and U.S. Military Veterans receive a 10% discount every day. Followers of the "Made In America" movement can keep updated with the Made In America Store through Facebook, Twitter, Google+, Pinterest, FourSquare and even their own blog on Wordpress!