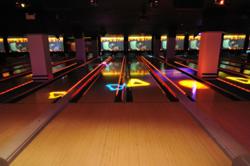 The biggest questions of the day included: "Do you have power" and "Do you have cocktail service"
New York, NY (PRWEB) November 01, 2012
While employees are struggling to make it in to the office so companies can resume business as usual, Frames Bowling Lounge has become a haven for so many in midtown.
Schools have been off all week, and many parents have had enough of cookie baking, Lego building, nail painting and channel changing to last a lifetime. The bowling lounge has been packed since they reopened at noon on Wednesday 10/31, and are expecting a big crowd today as well. Frames had lanes reserved for adult revelers as well, with groups of bowlers ordering Vodka and Champagne bottles laneside, in addition to dinner and cocktails.
While it's usually the uber-trendy NYC neighborhoods like Tribeca, Soho and Meatpacking that draw crowds on a weekday night, due to lack of power south of 34th street, many of those wishing to go out were forced to discover alternate neighborhoods that could offer delicious dining options, and great entertainment. Frames offered their 28 sleek bowling lanes to walk-ins, regardless of a reservation.
The biggest questions of the day?
"Do you have power"; and "Do you guys have cocktail service".
Needless to say, people were itching to leave their apartments, and an afternoon of rolling strikes seemed like a great way to unwind, given the circumstances.
What better way to take your mind off a potential 3-hour commute in the morning than a tower of beer while bowling with friends?
Frames Bowling Lounge wishes all of its staff and patrons a swift recovery following their devastating loss in the wake of this week's storm.
Frames is a Bowling and Billiards Lounge located at 550 9th Avenue on 40th Street in NYC. It features a gracious lounge, 2 bars, a Billiards room and 28 sleek bowling lanes, including 2 with VIP access. The NYC Bowling Lounge has a modern, luxurious vibe, and is considered the ultimate spot in nightlife and bowling entertainment. To find out more about Frames Bowling Lounge, visit http://www.framesnyc.com.
###