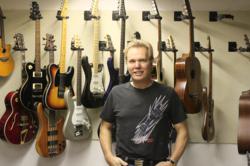 "All our stuff has got to sound better than what's out there," he says. "And it has got to actually do what I say it does."
Delta, B.C. Canada (PRWEB) November 28, 2012
The guitar industry worships musicians gonzo enough to smash, burn and mutilate their instruments but manufacturers are a conservative bunch who resist change, says Dunwoodie, a Delta-based guitar parts maker.
Dunwoodie knows the industry's wary ways first hand. In 1983, he designed a new guitar nut — a slotted bar near the top of the guitar that guides strings onto the fretboard. He struggled against the industry's resistance for nine years before making a breakthrough.
The reason? Dunwoodie's nut was black, and the industry traditionally used white nuts in acoustic guitars.
Low-key innovation is the ticket to a slow-changing industry's heart, says Dunwoodie, president and owner of Graph Tech Guitar Labs.
"If you're designing parts for the guitar industry you can't colour too far outside the lines," he says. "If you're going to change the performance, don't change the look of it.
"The acoustic guitar was designed in the 1700s and it still looks the same. The two most popular electric guitars were designed in the early 1950s and they still look the same."
Traditional Industry
Guitar makers' reluctance to mess with tradition might have thrown Dunwoodie's nuts on the scrap heap of impressive innovations that went nowhere. But Dunwoodie was persistent, convinced his products would make guitarists' professional lives better.
That conviction and that persistence have been vindicated. Graph Tech has become the world's largest manufacturer of nuts and saddles — the bar at the other end of the fretboard from the nut.
With an unquenchable idea machine as its boss, the company has expanded into magnetic bridges, picks and pickups.
Ninety per cent of Graph Tech's products are exported to 37 countries, a feat that earned it a berth as a finalist this year in the Canadian Manufacturers & Exporters' 30th annual B.C. export awards.
If you don't play guitar you've probably never heard of Graph Tech, making it the invisible giant of B.C. manufacturing.
Many of the world's top guitar makers — names such as Martin, Gibson, Yamaha, Ibanez, Washburn, Fender, Godin and Larrivee — use its nuts and saddles. Among the players using its products are surf guitar king Dick Dale, Sam Roberts, Kenny Wayne Shepherd and Tommy Bolan.
Dunwoodie doesn't claim his stuff will make you a better musician. But it will make you sound better, he insists.
Its saddles, made from advanced crystalline polymers, boost the harmonic content of acoustic guitars, partly because they lack the inconsistencies of natural substances such as bone and ivory.
"The guitar sounds richer," says Dunwoodie, 56. "It's the difference between five people singing in a choir and 15 people singing."
Guitarist Randy Bachman uses Graph Tech parts like the string saver saddle, which is said to reduce string breakage by 95 per cent.
"It frees you up to concentrate more because you're worrying less about breaking a string," Bachman says. "There's nothing worse than being in the middle of a hot solo and breaking a string.
"Dave Dunwoodie has done some brilliant things and the world has embraced his products," says Bachman.
It wasn't always that way.
Business inspired by stuck strings
Graph Tech was spawned on a night three decades ago when Dunwoodie tried to waggle the tremolo bar on his Fender Stratocaster.
Dunwoodie was playing a Vancouver bar with his Hawaiian funk band when his guitar strings stuck and his instrument lurched out of tune.
He was aghast. If it couldn't stay in tune, that guitar was of little value for stage work.
As an upbeat problem-solver, Dunwoodie made a lousy victim. A chunk of his brain began immediately working on how to stop guitar strings from binding on the instrument's nut.
But he had other things on his mind. Like how to make a living after the Hawaiian funk band broke up.
Still in his early twenties, he moved back to his Mom's house in Richmond and landed a job as a Filter Queen vacuum salesman.
Selling vacuums wasn't his passion but Dunwoodie found he had a knack for sales. He became a top divisional salesman.
"It's like being on stage," he says of sales. "You get to know your patter. You can be relaxed and funny."
The problem of binding guitar strings stayed in the back of his mind. He got another job at a Richmond guitar shop, where he again excelled at sales. He left that job to start his own company wholesaling guitar bodies and necks.
In 1983, he devised the first permanently lubricated nut, a nifty little item that was five times as slippery as the pencil lead frustrated guitarists had been pouring into nut slots before this. And he was enough of a salesman that he was sure he could sell it.
He soon learned that acoustic guitar makers weren't interested in him selling a black nut. In his first year, sales were only $18,000.
Dunwoodie's wife took a job in a dress shop and they both played in a cover band to try to make ends meet.
The industry door opened in 1992 when two prominent guitar makers started using Graph Tech's TUSQ nuts and saddles for their acoustics. Other majors followed.
"We broke through the industry's traditions, but we did it by little nudges," Dunwoodie says.
As its manufacturing and aftermarket sales have grown, the company has grown with it. Sales this year will be about $3 million, and Graph Tech's workforce has increased to 20.
Loyalty pays off
Today, the industry's conservatism works in the company's favour. Chinese and Koren producers — 80 per cent of the world's guitars are made in China — have tried exporting instruments equipped with cheap knock-offs of TUSQ nuts and saddles. The industry has stayed loyal to Graph Tech, Dunwoodie says.
"Customers in other countries are well aware if their guitars and other instruments are equipped with genuine Graph Tech branded parts," he says.
In January of this year, Graph Tech plunged into the competitive pick market by launching a line of TUSQ picks. Customers have so far snapped up half a million, beating the company's expectations.
Unable to contain himself, Dunwoodie is starting to push the innovative envelope again. In January, he created a new product category by launching a hand conditioner for guitarists that also works for violinists, cellists and brass players.
Just around the corner — as soon as next January — is a Graph Tech innovation in guitar tuning that Dunwoodie says will be an industry game-changer.
To ease the shock of the new, he has discussed the new product with guitar makers ahead of time. They're receptive and excited, he says.
"All our stuff has got to sound better than what's out there," he says. "And it has got to actually do what I say it does."