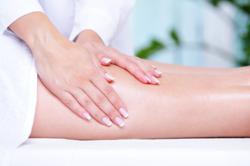 We are excited to raise awareness about adhesion-related conditions and to inform patients, providers and the press about the new benefits of this non-surgical physical therapy
Gainesville, FL (PRWEB) November 05, 2012
A new "hands-on" physical therapy shown to replace major surgery is examined at http://www.clearpassage.com. Already regarded as the Web's premier destination for information about non-surgical treatment of adhesions, the site has received a total makeover to better address the therapy's ability to open blocked fallopian tubes and bowel obstructions – two conditions treated only by surgery before this therapy was developed.
The launch is designed to coincide with Adhesion Awareness Month and National Physical Therapy Month, which begins October 1st. "We are excited to raise awareness about adhesion-related conditions and to inform patients, providers and the press about the new benefits of this non-surgical physical therapy," said Larry Wurn, CEO of Clear Passage.
The website's new design and streamlined navigation allows visitors to locate key information about their medical condition and request a free phone consultation with an expert physical therapist with greater ease. "The new site includes videos in which patients share their experience with our treatment of chronic pain, bowel obstruction, infertility and more. These stories bring hope, inspiration and important information to others suffering from similar conditions," said Belinda Wurn, PT, Director of Services.
With its updated look and feel, the new website also highlights studies and citations about Clear Passage's pioneering work, published in respected medical journals such as Fertility and Sterility, Contemporary Ob/Gyn and Medscape General Medicine. The studies highlight the growth and success of the Wurn Technique® – a protocol of over 200 manual therapy techniques – in restoring normal, pain-free function in patients, without surgery or drugs.
About Clear Passage Physical Therapy®
Clear Passage Physical Therapy® is a network of physical therapy clinics specializing in the hands-on treatment of female infertility, bowel obstruction, and chronic pain with an additional focus on women's health conditions such as endometriosis, pelvic and intercourse pain. Major medical journals and the public media have recognized Clear Passage for its high treatment success rates and ability to bypass the need for surgery or drugs. The group treats men and women from all over the world at its U.S. clinics; approximately 20 percent of Clear Passage patients are healthcare professionals.
About the Wurn Technique®
The Wurn Technique® is a hands-on manual soft tissue therapy developed to treat the adhesions that cause or accompany chronic pain, endometriosis, female infertility, intercourse pain and small bowel obstruction. Larry and Belinda Wurn, a husband and wife therapy team, developed the technique over two decades ago to help Belinda recover from debilitating adhesion pain – the results of pelvic surgery and radiation therapy. Practiced exclusively at Clear Passage Physical Therapy® clinics, the Wurn Technique® has helped return normal, pain-free function to hundreds of patients.