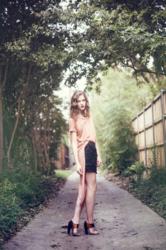 Instead of waiting months for traditional store buyers to react to trends, shoppers participate in weekly polls and chats that drive the merchandise available on the site almost instantly.
Dallas, Texas (PRWEB) November 05, 2012
ShopSeptember has launched an interactive contemporary online boutique that gives consumers a new way to shop, share, and discover. With two distinct shopping environments offering the latest trends and the best new designer pieces as well as an interactive platform that actually puts the shopper in charge of future merchandise available on the site, ShopSeptember.com provides an innovative way to buy clothing online. Most sites buy merchandise months in advance, leaving them unable to react quickly to consumer demand and unable to jump on the latest trends. ShopSeptember.com buys it's clothing every month based on the trends and styles chosen by the customers. Finally, the customer is fully in charge of the shopping experience.
ShopSeptember features two different shopping environments: 'The Showroom' and 'The Street.' The Showroom is where shoppers will find pieces from up-and-coming and hard-to-find designers. No run of the mill labels here; these are the best new pieces from the most talented designers that are just breaking into the industry. The Street is where shoppers can find the hottest fast fashion trends available the moment they want them at affordable prices. The Street follows the latest trends from the runways, television, and real life and brings them to shoppers the second they are hot instead of months later like most shopping sites.
In 'The Buy,' shoppers can participate in weekly polls about the trends and styles they want to see on the site. The results from the polls directly drive the merchandise available, and shoppers can see the styles and trends they voted for in as little as a week. The Buy also features live chats with industry professionals where consumers can talk about anything and everything related to fashion.
"ShopSeptember's mission is to provide customers with an easy, fun, and exciting new way to shop and think about fashion. Most sites buy their clothing months in advance and put the buyers in charge of what is available to customers. ShopSeptember wants to flip that whole process around. At ShopSeptember, we believe the customer knows what she wants and knows when she wants it. We are able to react to her needs through our polls, live chats, and open communication. ShopSeptember buyers become extensions of their customers," said founder Laura Petter.
About ShopSeptember
ShopSeptember.com launched in October 2012 as an interactive clothing boutique where shoppers have the ability to drive the merchandise available. The site features the hottest fast fashion trends and the newest hard-to-find designer labels.
Please contact Laura Petter at laura(at)shopseptember(dot)com or 877.512.7905 for additional information. Laura Petter is currently available for interviews. High-resolution photographs, along with product samples, are available upon request.