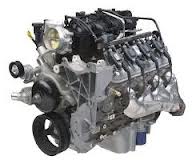 One way that the UsedEngines.co company has been able to reach engine buyers in the 48 continental U.S. states is by offering incentives like free shipping.
Houston, Texas (PRWEB) November 02, 2012
GMC truck owners and mechanics that service these vehicles are able to receive a new warranty from the UsedEngines.co website. This new warranty has been established as a result of securing GMC engines from top distributors that are in higher quality condition. While a typical used engine is graded on age and mileage, these newer engines offer engine buyers lower mileage to help extend the lifespan. All in stock GMC truck engines are eligible for this new warranty courtesy of the UsedEngines.co website. More information about these warranties and stock information can be obtained by visiting this link http://www.usedengines.co/gmc/gmc-truck-engines.
GMC pickup trucks are part of the General Motors group that includes models like Canyon, Sierra and Yukon. These vehicles have increased in sales over the past decade according to automotive data. While sales of new vehicles are growing, the number of used vehicles that are sold annually continues to rise.
This increase in used pickup truck sales has helped companies like UsedEngines.co to build its online inventory to new levels. The mechanics that service engines through automotive dealerships can now purchase used engines online that are shipped the same day by UsedEngines.co.
Auto engine buyers have fewer choices online compared to the number of offline distributors. The size, weight and condition of some engines can prevent a shipment from one state to another. Offline companies are generally able to send engines to engine buyers in a regional area. One way that the UsedEngines.co company has been able to reach engine buyers in the 48 continental U.S. states is by offering incentives like free shipping. This addition of free freight is providing a way that engine replacements can be completed at a lower cost due to the elimination of shipment fees.
The integration of engine warranties is not yet standard for online sellers according to research. The nature of the used engine industry can prevent some dealers from warranting what is sold. Companies like eBay have created automotive engine sections that buyers can use to find engines like GMC brands. The decision to offer warranties is left up to each individual seller and is not yet standard. One way that the UsedEngines.co website is helping automotive buyers is by offering warranties for all engines that are sold online and offline.
Inventory expansions have take place since early 2012 at the UsedEngines.co company headquarters. New engines from Ford, Dodge, Toyota and Chevrolet have been added as the demand for engines continues to grow online. Buyers that are interested in browsing the engine inventory of this company can do so at this link http://www.usedengines.co/blog.
About UsedEngines.co
The UsedEngines.co website sells used engines from most U.S. automakers and foreign automakers to engine buyers across the United States. This reliable seller established its web presence with the goal in mind to offer the lowest mileage engines for affordable prices to all customers. The UsedEngines.co website offers incentives like free shipping inside the continental U.S. and same day shipping for engine buyers. These incentives have helped this engine seller to expand its inventory as well as the amount of daily shipments that are sent out from a single company warehouse.