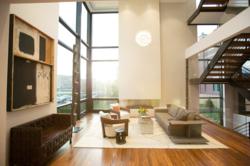 "We are going beyond the notion of what is sustainable to create a home that has health and wellness at the heart of our objectives," noted Di Iorio. "This project seeks to raise awareness on all the ways we can achieve a healthier environment.
Chicago, IL (PRWEB) November 02, 2012
In a groundbreaking partnership with leaders and advocates in green design, Healthy Home 2012 is a real-life educational model for healthier living, raising the bar on sustainable design by focusing on healthier indoor environments. This one-of-a-kind endeavor is intended to help educate and inspire people to create non-toxic living environments, from foundation to food.
The contemporary home, built and designed for a growing family, is located in the prestigious Lincoln Park neighborhood of Chicago and features an outstanding display of sustainable design, furniture, lighting and accessories – and showcasing the highest standards of environmental integrity.
Spearheaded by sustainable experts and green design leaders, Victoria Di Iorio and Jill Salisbury, the project has brought together a standard of healthy and stylish living that is unsurpassed. From construction to design to lifestyle choices, the home showcases the best in sustainable design, innovative technologies, green building materials and healthful living.
"We are going beyond the notion of what is sustainable to create a home that has health and wellness at the heart of our objectives," noted Di Iorio. "This project seeks to raise awareness on all the ways we can achieve a healthier environment – from cleaning supplies and food choices to how we construct and decorate our homes - so anyone can aspire to cleaner, greener, healthier living."
The Home
Designed by architect Joe Trojanowski, this modern home with large expanses of glass boasts the advantages of natural light and views of the neighborhood and the Chicago skyline. The exterior is clad in dark colored brick and large cast stone panels, and is designed to accommodate outdoor living with an enclosed yard, raised dining terrace, a large roof deck on the top floor designed for entertaining, and a private green roof for the Master Suite.
The homeowners desired a contemporary living space designed for entertaining while meeting the lifestyle needs of their family. The family's consideration for environment, health and balance are reflected throughout all the interior spaces and in every selection made for this home. The unique double volume space in the living room and open floor plan allow for the entire first floor to illuminate with daylight with the incorporation of an open staircase and sliding glass doors. The basement and third floor are designed for family activities, entertaining and includes a private office, while the second floor is tucked away for privacy. The home reflects a neutral and earthy palate with clean lines and contemporary details that flow from the exterior spaces throughout the interiors of the home.
Green Highlights
The house employs a number of materials and technologies that are environmentally friendly by doing a number of things - conserve energy, use less water, improve its indoor air quality, reduce the 'heat island effect' in the city and utilize sustainable building materials.

The heating system of the house is 98% efficient, meaning nearly all of the energy consumed is converted directly to heat, rather than wasted
The insulation envelope of the house is very high performing with insulation that exceeds the standards set by the City of Chicago Green Homes Program Guidelines
The windows in the house are constructed of thermally broken aluminum frames, which prevent 'thermal bridging', or the direct transfer of heat through the window frame
The glass in the house is 1" thick insulated glass manufactured by PPG, with 'Solarcool Grey' reflective coating, which not only provides daytime privacy, but further reduces the heat loss and heat gain through the glass areas. This reduces the home's energy consumption
The home is designed to maximize greenspace and is extensively planted, which reduces the stormwater load, and helps to reduce the 'heat island effect' of buildings in the city
The metal roof has a high solar reflective index (SRI) which reflects much of the suns heat and helps to reduce the cooling load.
The house is enclosed in a continuous insulation including under the basement slab, which reduces the heating demand.
The house includes mechanical connections for future solar thermal and solar photoelectric systems.
All appliances are energy star-rated
All structural floor systems are constructed of engineered lumber which are manufactured from sustainably grown forests
All wood flooring in the house is FSC certified sustainably harvested bamboo
Renewably harvested cork flooring is used in the basement
All water fixtures are low water consumption
All interior paint finishes are no VOC
All adhesives are minimal VOC
Roof decking surfaces are made with composite wood decking, which is made from scrap wood and recycled products
Partnerships
Healthy Child Healthy World Healthy Child Healthy World is the nation's preeminent nonprofit organization that advocates for and protects children's health—to help create cleaner, healthier indoor environments for children and their families.
Healthy Home 2012 in collaboration with Healthy Child Healthy World is a residential prototype for best practices in healthy living and improved indoor air quality. By meeting some of the world's most stringent indoor air quality standards — the house will serve as a model for safe, healthy, and breathable indoor environments for millions of children and families.
Greenguard Environmental Institute
Healthy Home 2012 features dozens of GREENGUARD Certified low-emitting products and building materials—including paints, wallboard, flooring, countertops, tile, and certain furnishings. By meeting some of the world's most stringent indoor air quality standards, these GREENGUARD Certified products help reduce the number of volatile organic compounds (VOCs) and other toxic contaminants in the home's interior, thereby creating healthier indoor air.
Dwell
Dwell magazine is the exclusive media sponsor, giving Healthy Home 2012 in Chicago a national platform to educate the public on how truly green and healthier living can be achieved in a hip and design-forward way. The showcase home offers modern design enthusiasts innovative and stylish solutions for healthy living.
Sponsors include Bloomfield Development Company, Teragren Bamboo Flooring, Toto, Firstpoint Residential Technologies, Susan Fredman Design Group, Earth Friendly Products, and Nordic Naturals.