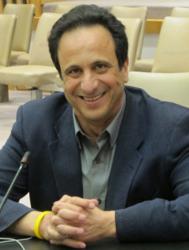 Portland, Maine (PRWEB) November 01, 2012
University of New England's Founding Director of the Center for Global Humanities and acclaimed scholar of Western-Muslim relations Anouar Majid will deliver the 2012-2013 Crosley Lecture, "The Past and the Future of American-Muslim Relations" on Monday, November 12, 2012 at UNE's Portland Campus in the WCHP Lecture Hall in Parker Pavillion. A reception will be held at 5 p.m. in the UNE Art Gallery prior to the lecture.
Majid is the author of "Unveiling Traditions: Postcolonial Islam in a Polycentric World," published by Duke University Press in 2000, and recommended by the American Association of University Professors (AAUP) as a book for understanding the context of 9/11; "Freedom and Orthodoxy: Islam and Difference in the Post Andalusian Age," published by Stanford University Press in 2004; "A Call for Heresy: Why Dissent is Vital to Islam and America," published by the University of Minnesota Press in 2007; "We Are All Moors: Ending Centuries of Crusades Against Muslims and Other Minorities," also by Minnesota in 2009, and earlier in 2012, "Islam and America: Building a Future Without Prejudice," from Rowman and Littlefield.
Reviewing Islam and America, Publishers Weekly called the book an "important work" and added: "Majid's message is critical in today's political climate, and this work is a worthwhile contribution to an ongoing dialogue." Booklist also praised the book and wrote: "Forthright and fair, Majid's analysis will not satisfy everyone. But that's exactly the point. [As Majid states,] "'Conversations humanize us; unyielding certitudes turn us into warring tribes and killing machines.'"
Cornel West described Majid in his book "Democracy Matters" as one of a few "towering Islamic intellectuals." Majid's work and life have been profiled by Bill Moyers in the PBS program Bill Moyers Journal and by Al Jazeera's Date in Exile series. In a new film titled "Islam Unknown," Majid is one of eight leading global scholars on Islam and the West. He represented Morocco in a summit with American evangelicals (the first of its kind) and addressed Western and Muslim audiences about the need for heresy and critical thinking in their societies.
A novelist, Majid is the author of "Si Yussef" (1992, 2005). In late 2003, he co-founded and started editing Tingis, the first Moroccan-American magazine of ideas and culture. The magazine is now published under the new title of TingisRedux. He also hosts a related blog titled, Tingitana.
In his lecture, Majid will explore the history of American-Muslim relations, outline what unites and divides the two cultures, reflect on the most sensitive issues in the complex relationship between the United States and the Muslim world, and suggest ways for both civilizations to build a better future.
UNE's Center for Global Humanities is in its fourth year of programming. The Center is a public forum designed to introduce students and members of the public to the exploration of the great issues facing humanity today.
Events are held on UNE's Portland Campus, and many are also broadcast live at the Bangor Public Library and the Cary Library in Houlton. For more information, visit http://www.une.edu/cgh.
###