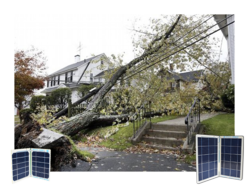 The best portable solar products on the market to meet critical emergency needs.
San Jose, CA (PRWEB) November 02, 2012
By late Tuesday, the winds and flooding inflicted by the fast-weakening Super storm Sandy had subsided, leaving at least 55 people dead along the Atlantic Coast and splintering beachfront homes and boardwalks from the mid-Atlantic states to southern New England. Demand for sCharger-5s and sCharger-12s in the eastern states rapidly accelerated in late October as Sandy developed and then hit the eastern shore. Suntactics is rapidly expanding production to fill the surge in demand created by customers seeking help now and customers that want to be prepared for the next series of storms.
Dean Sala, Suntactics CEO, said, "It is very gratifying to produce products that help people in critical emergencies. It confirmed what our customers have been telling us about their need for a powerful solar charger like the sCharger-5 that provides both instant usage and charging from a highly reliable powerful solar charger that is simple to use, compact, durable and hassle free. Customers realize from experience the sCharger-5 and sCharger-12 are a very important emergency preparedness and survival tools."
Comments from customers, who purchased the sCharger-5 because they were concerned about emergencies, provide further confirmation of its importance for "Being Prepared."
"Best portable solar product on the market. Great for blackouts and emergencies. Although cell phone networks gets saturated during emergencies, SMS still works and this is great for keeping contact. This solar panel is the best thing for your emergency kit and I thank the manufacturer for creating such a great product."
"I was amazed at how fast this charger is; it charged an iPod classic from the last bar to fully charged in about 90 minutes. It will also charge when it's surprisingly hazy. I have used it for a touch-screen smart phone, an iPod, and for AA/AAA batteries".
"Works perfectly and was great when the power went out in the whole city where we live. A must for anyone who lives in areas where power outages are becoming more common as our power grid degrades."
"Construction is high quality and appears it will last a long time. This little charger just earned a coveted spot in my travel bag. And if you pair this with an external USB battery pack and USB powered LED light, you would have a handy emergency setup".
Suntactics has set the reliability, quality and value standards for portable solar chargers. The dependable and durable compact sCharger-5 for solar charging smartphones like the iPhone5 or even tablets like the iPad in non-ideal weather conditions. The more powerful and faster sCharger-12 provides both instant usage and charging for multiple devices at once including tablets, phones or any other USB device in non-ideal weather conditions. Truly environmentally responsible products that are made in the USA and designed for long-term value and not obsolesce.
About Suntactics
Suntactics focuses on portable solar and off grid solar energy products. Their current products are a unique 5-watt handheld solar charger called the sCharger-5 for solar charging smartphones like the iPhone and powerful duel port 14-watt solar charger called the sCharger-12 for solar charging multiple remote devices including tablets like the iPad. These compact high power and durable solar power chargers meet the needs for a wide range of portable devices. The units are manufactured in the USA at Fastrak, a veteran owned contract manufacturer. Suntactics is headquartered in San Jose, CA.