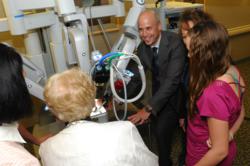 WARREN, Ohio (PRWEB) November 02, 2012
Surgeons at St. Joseph Health Center completed the100th robot-assisted surgery in Trumbull County in October, just six months after introducing this advanced treatment option to the community.
St. Joseph Health Center is the only health care provider in Trumbull County to offer robot-assisted surgery. Since completing the first robot-assisted surgery in Trumbull County, a hysterectomy, April 13, surgeons at St. Joseph have completed more than 100 hysterectomies and other gynecologic procedures and demand continues to grow.
"Minimally invasive robot-assisted surgery enables physicians to perform more precise procedures that result in less blood loss, lower risk of infection, less pain and quicker recovery for patients. So, it makes sense that many of our patients would prefer robot-assisted procedures over open procedures," observes John Finizio, president of St. Joseph Health Center. "We're proud to offer this option so our patients can benefit from the latest surgical technologies without leaving home."
While patients requiring gynecologic surgery were the first to be offered robot-assisted surgical treatment options, other robot-assisted procedures will be offered soon at St. Joseph, Finizio adds.
About Humility of Mary Health Partners:
Humility of Mary Health Partners is an integrated health system located in the Youngstown/Warren area. It is a region of Catholic Health Partners (CHP) in Cincinnati, the largest health system in Ohio and one of the largest Catholic health systems in the United States. HMHP provides a full spectrum of health care services, including inpatient, outpatient, emergency, urgent care, home care and long-term care. Members are St. Elizabeth Health Center, St. Joseph Health Center, St. Elizabeth Boardman Health Center, HM Home Health Services, The Assumption Village, Humility House, Hospice of the Valley and Laurel Lake. Learn more about HMHP online at http://www.HMpartners.org. ###