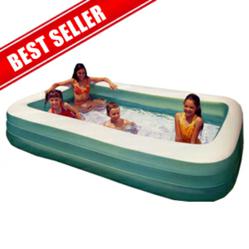 (PRWEB UK) 4 November 2012
CNM Online has introduced a smart and innovative range of paddling pools which give pool like experience to the toddlers give them enjoyment of playing in the clean waters. Artificially created pools for kids give them the space to splash around and enjoy the life. The small sized pools bring valuable difference in the life and style of parents and they get some really great and best options. Kids make mischief and it is just a natural part of their growth and development. The paddling pool is custom designed to meet the mischievous needs of kids without being concerned about being reprimanded for it. In fact parents will feel happy and excited to see their kids playing around and absorbed in themselves. For the parents who are really concerned about making their kids happy and give them the pool like fun and experience, new range of paddling pools are out to give the best in everything.
At CNM Online, parents have the opportunity to buy custom designed pools in the shape of jacuzzi, which will provide the kids with comfort to submerged their upper chest without the fear of drowning. The paddling pools are exclusively designed to support their weight and lean against them. The artificial pools are also deigned in large sizes to comfortably accommodate parents as well and make pooling a complete group activity.The 2 Ring Family Paddling Pool is indeed a durable pool which comes with 2 Air chambers and every air chamber is provided with a double valve intake and sophisticated free-flow exhaust valve. The pool is provided with the easily accessible drainage holes for easy flow of water and helps in emptying the water holding area.
Aquarium Paddling Pool is ideal offers great pooling experience for the kids below the age of 6. Alternatively, the pool can also be used as the lounging bar for the adults too. The pool is therefore providing 2 in 1 practical option. There are 3 Air chambers provided in the pool and each chamber has double valve intake and an effective free-flow exhaust valve. Drainage holes are also provided for emptying the pool as and when required. Winnie the Pooh 3 Ring Paddling Pool is a Pre-tested sturdy vinyl pool that is integrated with practical 3 Air chambers and each of them having double air valves. The pool comes with practical repair patch.Fun giraffe paddling pool for children above age of 3 is a superb pool which is designed to hold a maximum of 185 litres/ 49 gallons of water at any point of time. The artificial pool is provided with sprayer spout that can easily fit to the garden hose giving kids more natural enjoyment.
CNM Online brings out some of the greatest all-time hit artificial pools which are designed to give kids and parents a nice cuddling water play support. New and custom designed outdoor pools are listed at the online store. Kids have more reasons to have complete outdoor fun and parents would love their adorable kids enjoying the life in feel like natural pools.
The products listed at CNM Online are chosen after careful introspection and thought. The products are provided all-time top ratings by the customers. Read through the testimonials and reviews on website to know about quality of service and products offered.