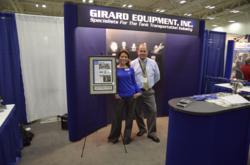 A show of this magnitude can't be missed
Louisville, KY (PRWEB) November 06, 2012
The National Tank Truck Carriers hosted their annual show in Louisville, KY October 22-24th. This was a spectacular event, with a majority of the industry's movers and shakers all in attendance. Girard Equipment has been an associate member since the late 60's and the Girard group has consistently gotten a booth to showcase their incredible components. The NTTC is a valuable resource in the tanker industry, and this annual show sheds a great deal of light on the changes and educational talking points of this unique business.
A highlight of the three day event included, Vice President, Dave Girard's two presentations. The first was for Bench Testing requirements on behalf of the TTMA and the second included the benefits of Hydraulic Clean-Out Valves to promote increased safety. Both speaking arrangements were well attended and received incredibly positive feedback. "It's always a good feeling when you are with other people that share your passion and the knowlege you bring to the table can be understood and appreciated," stated Mr. David Girard.
Upstairs the GEI staff of highly informed sales reps manned the booth including: Brent Beamesderfer (Southwest/East Sales), Jim Pflum (NorthEast Sales), John L. Girard (Eastern Coast Sales/Superstar), and Anna Valencia (Director of Marketing based out of Florida). Thanks to the large number of attendees there was never a dull moment at the Girard Equipment booth. Numerous clients and suppliers stopped by; tried the all new Orange DuraSeal by Girard and viewed the updated website. For booth visitors, GEI provided fun giveaways including custom Girard gum packets, business card holders, and pen caddies.
The NTTC's remarkable team did a superb job at providing a great venue, schedule, and activities. Key players included: Fritz, Dan, Joan, and Monica; all of whom exhibited strong communication skills and information. Next year's show will change cities to Houston and the Girard Equipment group will be looking forward to another great opportunity to interact with all the dynamic tanker industry players.
To keep up with all the other Girard Equipment events, news, and opportunities, or even suggestions for upcoming shows or products visit http://www.girardequip.com.