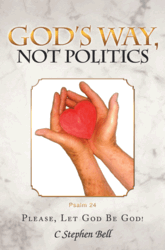 The business of politics may be legal, but not always moral or right.
ENCINO, Calif. (PRWEB) November 02, 2012
Christians, take note: you may be displeasing God with political preaching. In C Stephen Bell's controversial new book "God's Way, Not Politics" (published by WestBow Press) he reveals how Christian involvement in politics directly conflicts with the word of God.
In "God's Way," Bell explores the Bible's instructions for participating in government and asks Christians to reexamine the purpose of political action in everyday life. Using a combination of scriptural analysis and personal experience, Bell imparts the truths of God's word as they relate to Christians' hypocritical political engagement.
Bell first experienced the double standards of political affiliation while working as an engineer for an aerospace company where he organized a program that made information about politicians seeking office available to employees.
"Face-to-face observations of, and discussions with the actual people competing for the open government positions, gave me concern regarding their motivations and sincerity," He says.
As a true believer of God for more than seven decades, Bells inspiration for writing "God's Way" stemmed from the idea that "the business of politics may be legal, but not always moral or right," he says.
So will God be smiling down on you or smiting you as you take to the polls this November? Bell will only say he believes in God's true message for Christians, but does not want readers to take his word for it.
He says, "Although the book is revealed by my experience, the truths of God's word unfold directly from the Bible by his Holy Spirit."
About the Author
Steve Bell, at age eighty-one, has known Jesus as his Lord for seventy-one years. He has been married a total of fifty-eight years, with a combined family of thirty-six children, grandchildren, and great-grandchildren. All of the adults know the Lord. Steve is a Bible teacher, an engineer, and an entrepreneur.
WestBow Press is a strategic self-publishing alliance of Thomas Nelson, the world's premier Christian publisher, and Author Solutions Inc. (ASI) — the world leader in the fastest-growing segment of publishing. Through this partnership, authors benefit from the rich publishing heritage of Thomas Nelson and the speed-to-market advantages of the ASI self-publishing model. Titles published through WestBow Press will be evaluated for sales potential and considered for publication under the Thomas Nelson imprint.