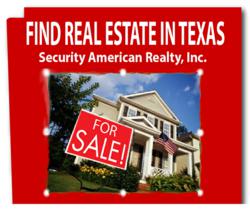 Houston, TX (PRWEB) November 08, 2012
In recent Texas Real Estate and Mortgage events, Real Estate Experts from Security American Realty gathered with VA Home Loan Experts from Security America Mortgage in Houston to reveal the secrets and trends that make it easier (and better) for veterans to purchase a home before the year is up. As 2012 ends, veterans are rushing to close in on their homes using VA mortgage benefits before the interest rates or closing costs increase. So what is the rush in purchasing a home before 2013?
So, why should veterans close on a home as soon as possible? The team of professionals gave military members insight - all of them reacting with the same response to this puzzling real estate market questions.
The American dream of home ownership is a very feasible aspiration for 2012.
There are several benefits of owning a home. Yet some first-time buyers are skeptical of purchasing with the uncertainty surrounding the housing market. The uncertainty many face when speaking about the housing market involves a specific date, which is the time when home values are expected to increase. Since no one can pinpoint this date, the word uncertainty (when paired with the housing market) often reveals a negative connotation, usually creating false perceptions over the reality of owning a home. The fact is, owning a in Texas is probably one of the smartest things a family can purchase for their future.
According to the experts, it is better for veterans to close on a home and obtain VA benefits quickly because...
1. You can get a good deal, with prices being down 30% on average-making homes more affordable for the ideal household income.
2. Mortgages are cheap. At 4.3% on average for a 30-year fixed-rate mortgage, your costs to own are down by a fifth from two years ago.
3. You can save on taxes. When you add up the deductions for mortgage interest and others, the cost of owning can drop below renting for a comparable place.
4. It'll be yours. The one benefit to owning that never changes is that you can paint your walls orange if you want (generally speaking; there might be some community restrictions). How many landlords will let you do that?
5. You can get a better home. In some markets, it's simply the case that the nicest places are for-sale homes and condos.
6. It offers some inflation protection. Historically, appreciation over time outpaces inflation.
7. It's risk capital. If the economy picks up, you stand to benefit from that, even if you're goal is just to have a nice place to live.
8. It's forced savings. A part of your payment each month goes to equity.
9. There is a lot to choose from. There are some 4 million homes available today, about a year's supply. Now's the time to find something you like and get it.
10. Sooner or later the market will clear. The U.S. is expected to grow by another 100 million people in 40 years. They have to live somewhere. Demand will eventually outpace supply.
Also, according to the experts, the trust is that "no one knows what will happen in 2013, but it is a fact that VA benefits are available now, VA home loan limits are as high as $417,000, and lower interest rates guaranteed. The mortgage rates change every day, but the fact is they are low now, VA home loan benefits are available now. This is why Veterans to act now rather than later, because this change tomorrow or next week." (Security America Mortgage, 2012).
With all the decisions and changes going on with the economy, on Nov. 1, 2012, Security America Mortgage chose to educate veterans by explaining why they continue on their mission to secure the VA home loan for our military heroes. With no doubt, the American dream of owning a home will live on for generations to come, and at an affordable price for those who buy a home before 2013.