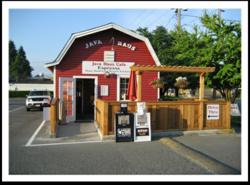 From Gourmet to Everyday
Snohomish, WA (PRWEB) November 05, 2012
Viridian Tax and Accounting congratulates The Java Haus Café on the grand opening of their catering kitchen. Recently remodeled, the Java Haus now includes the addition of a commercial kitchen, specifically designed to fit Chef James' catering needs and complements his unique style.
"Snohomish has sort of turned into a wedding mecca, a true destination for weddings. With all the wedding facilities coming up, a lot of the farmers have figured out it's a good source of income. For the catering part of things, they come to us. There are a lot of caterers out there. We tailor our service to our strengths, which is large groups with distinctive tastes."
James is a graduate of Western Culinary Institute and earned his certification as a Chef de Cuisine through the American Culinary Federation. His experience includes work at restaurants such as Round the Corner, Cork and Cleaver, The Normandy, the Seattle Sheraton Hotel, and five years as executive chef at the Grand Aleutian Hotel.
In 1997 James and Christine White purchased a coffee shop in Monroe and named it the Java Haus. Two years later the Whites opened up their second store in Clearview and then a third in Sultan in 2004. With the onset of the coffee stand boom, James adjusted to the competition by downsizing and focusing his attention on the current location in downtown Snohomish (510 2nd Street Snohomish 98290).
With a slogan that reads "From gourmet to everyday," the Java Haus services anything from barbeques to sit down five-course dinners. Their new building expansion provides ample workspace to feed large groups up to 1000. And for the cooking-inclined, the Java Haus offers culinary classes where you can learn to cook with Chef James.
The Grand Opening of the Catering Kitchen will be November 10th 11:00am-3:00pm. James and Christine White and the rest of the Java Haus crew invite you to celebrate with them and enjoying complimentary coffee and a variety of catering treats.
For more information about Chef James or the Java Haus Café and Catering, visit their website at http://www.javahauscafeandcatering.com or contact them directly at 360.568.7090.