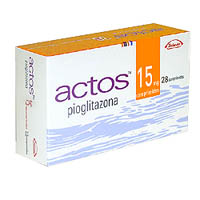 Providence, RI (PRWEB) November 09, 2012
The dangerous drug lawyers at d'Oliveira & Associates currently are seeking clients who have received a diagnosis of bladder cancer after taking the diabetes drug Actos (pioglitazone). d'Oliveira is offering a "no win, no fee promise" to these individuals and their families; meaning that they will not have to pay unless a settlement is successfully negotiated or the case is won at trial.
The diabetes drug Actos (pioglitazone) was initially approved by the US Food and Drug Administration in 1999. It is prescribed for the purposes of controlling diabetes by reducing the resistance to insulin that may be present in the liver of individuals suffering from type-2 diabetes and thus helping the body to moderate the level of blood sugar and insulin. It also has secondary effects on cholesterol and other fatty substances in the blood, though it is not typically prescribed for this.
Attribution: http://www.fda.gov/drugs/drugsafety/ucm259150.htm
According to a study and safety review of Actos, Actos has been associated with an increased risk of bladder cancer among individuals taking the drug. This is in addition to an increased bladder cancer risk present in all individuals who have been diagnosed with type-2 diabetes. This study published in a Canadian journal in July 2012 suggested that Actos may be linked to a 22% increased risk of bladder cancer.
Attribution: http://www.nlm.nih.gov/medlineplus/news/fullstory_126892.html
In order to help protect the rights of individuals who have developed bladder cancer that may have been caused by Actos, d'Oliveira & Associates is offering its no win, no fee guarantee to potential clients.
About d'Oliveira & Associates Dangerous Drug Attorneys: d'Oliveira & Associates is a law firm that works with some of the leading attorneys in the United States for dangerous drug, defective medical product and medical malpractice cases. The firm also focuses on personal injury cases, including auto accidents, slip and falls, dog bites as well as social security disability cases.
For a free legal consultation, call 1-800-992-6878 or visit their website at Actos Lawyers