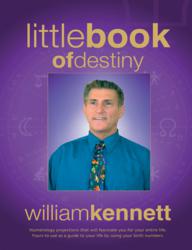 One day I started to play with numbers and, using my intuition, discovered numerology star projections.
Cheltenham, Australia (PRWEB) November 06, 2012
Have you ever wondered about your future?
According to Australian William Kennett, also known as 'Will the Wizard,' the tools you need to find your life's calling are already in your back pocket.
Using nothing more than a person's birthday (day, month and year), Will the Wizard helps readers learn from their past, better understand their present state and decipher their future in the new self-help title, Little Book of Destiny.
Similar to a book of modern-day horoscopes, the book begins by helping readers calculate the meaning behind their birthday and find a corresponding section of the book containing insightful information about the upcoming year. For example, a person interested in starting a business can pinpoint the best month and year to launch a new project.
Especially for those who aren't adept at interpreting mathematical equations, Kennett's feat is quite impressive.
"One day I started to play with numbers and, using my intuition, discovered numerology star projections," said Kennett. "I started testing them with my friends and family, and after hearing for five years that these predictions were 'spot on,' I decided to write Little Book of Destiny."
Designed with vibrant colors and short, easy-to-read sections, Will the Wizard's Little Book of Destiny is an ideal, entertaining guide for passive and astute stargazers alike who are interested in letting their past be a guide to the present and future.
For more information, visit http://www.william-kennett.com.
Little Book of Destiny
By William Kennett
ISBN: 978-1-4525-0357-8
Approx. 44 pages
Paperback
Retail price: $20.45
E-book price: $3.99
Available at Amazon, Books-a-Million, BalboaPress
About the author
William Kennett, also known as Will the Wizard, has been practicing numerology for more than 20 years. He has a diploma in clinical hypnotherapy and extended his skills by becoming practiced at palmistry, tarot card readings, life coaching, colour therapy (including Aura Soma), psychic development and Reiki healing. Kennett has trained in India, along with many states in his home country of Australia, including Queensland, Victoria, New South Wales and Western Australia.
###