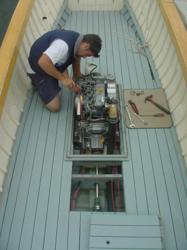 Newport and Bristol, Rhode Island (PRWEB) November 02, 2012
Individuals interested in exploring new career opportunities will have a chance to step inside the classroom at Rhode Island marine trades and technology school IYRS during two special Open House events. Each event includes an opportunity to watch students at work, meet faculty, and learn about the school's training programs that result in job opportunities in the region.
On Wednesday afternoon, November 7, the doors to the student workshop at the school's Newport waterfront campus will be open from 4 pm to 6:30 pm.
The Newport campus is located at 449 Thames Street and is home to the school's Boatbuilding & Restoration program. In this 20-month program, students are trained to restore classic wooden boats and develop craftsmanship skills that are highly valued by today's woodworking trades.
Open House attendees will observe students at work from 4 to 5 pm, meet with instructors from 5 to 5:30 pm, and talk with admissions staff from 5:30 to 6:30 pm.
On Wednesday afternoon, November 14, the IYRS lab and workshop at the school's Bristol (R.I.) facility at 253 Franklin Street will be open from 4 pm to 6:30 pm.
The Bristol facility is home to the school's Marine Systems and Composites Technology programs. The Bristol Open House will follow the same schedule, providing attendees an opportunity to observe students at work and a chance to meet with faculty and admissions staff.
Both the Marine Systems and Composites Technology programs are 6-month programs; the next session of these two programs begins in March 2013.
The Composites Technology program trains students in the theory and hands-on practice of working with composite materials, a method of building that produces structures with a high strength-to-weight ratio. Composites represent the next generation of building materials in many industries—including aerospace, construction, boat building, automotive and wind energy—and graduates of the IYRS program enjoy a wide choice of career paths.
The Marine Systems program teaches students to install, maintain, and troubleshoot the onboard systems used on modern and classic boats, such as electrical, electronic, fuel, propulsion, and steering systems. Developed with the marine trades and the American Boat and Yacht Council (ABYC), the program prepares students to sit for the relevant ABYC certification testing, a gold-medal standard in the industry.
For more information about IYRS and its programs, visit http://www.iyrs.org or contact Admissions Team Leader Holly Ashton at 401-848-5777, ext. 216 or hashton(at)iyrs.org.