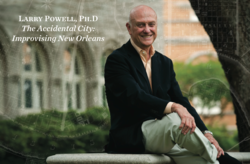 Metairie, LA (PRWEB) November 01, 2012
Professor Larry Powell, Ph.D. will be presenting his book, The Accidental City: Improvising New Orleans, on Thursday, November 8, at 6:30 p.m., in Metairie Park Country Day School's Weinmann Auditorium, and later for a book signing in the Country Day Dining Room, 300 Park Road, Metairie, LA 70005.
This distinguished author is the emeritus holder of the James H. Clark Endowed Chair in American Civilization at Tulane University. He specializes in Civil War and Reconstruction; Southern history; Louisiana history and politics; and the Holocaust. From 1998 to 2000 he was Director of Tulane's Campus Affiliates Program (CAP); from 2000 to 2005 he was Executive Director of the Tulane/Xavier National Center for the Urban Community. He is also the former director the New Orleans Center for the Gulf South.
This event is free and open to the public.
For more information please call Calais Hurst, Director of Public Relations at (504) 849-3113 or email calais_hurst(at)mpcds(dot)com.