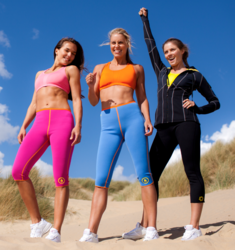 Zaggora Founder Dessi Bell said 'It's so amazing to help women get slim with our new Body Blazer and Zaggora Hot Top. Our fans asked us for this and we're excited to deliver!'
London, United Kingdom (PRWEB) November 01, 2012
Designed by the creator of 2011's iconic HotPants, Zaggora's Body Blazer has been released today at Zaggora.com as part of its first range of upper body activewear. Each product in the collection has been developed to offer time-pressed women smart solutions to getting active, from ramping up energy expenditure to get the most from their time at the gym to incorporating fast-wicking, odour absorbing fabrics that keep them looking and feeling fresh.
Alongside the Body Blazer, Zaggora's first range of upper body wear also includes vests and bra tops that have been crafted with technology-enhanced fabrics designed to help women maximise the results of their exercise routine.
The launch of Zaggora's Body Blazer and upper body range follows the phenomenal success of the company's iconic first product, HotPants, which have been snapped up by over half a million women in 119 countries across the world just 16 months after they appeared on the scene. Developed with the same revolutionary Celu-Lite fabric technology as HotPants – which is designed to harness the body's natural heat during activity in order to help increase core temperature and calorie burn – the upper body styles channel the power of HotPants into clothing you can wear from head to toe.
The Body Blazer - as with each style in the new collection - marries the Zaggora philosophy of innovation and technology with a sense of style and comfort, ensuring that you both look and feel good while you're working up a sweat.
Full Body Blazer
The hero piece of the upper body range, Zaggora's Body Blazer, is constructed to target the arms, tummy, chest and back areas, helping women to work these zones harder.
Available at Zaggora.com, key features include:

Full neoprene fabric construction lined with Celu-Lite technology to promote increase in core temperature and calorie burn
New and improved lighter-weight fabric, with a softer feel against the body
Under-arm gussets, neck and cuff sections crafted from sportsmesh and a unique recycled jersey fabric infused with caffeine to allow easy movement at the joints and offer a fast-wicking, odour-absorbing cooling sensation to keep you fresh during your workout
Flattering contoured stitching to compliment, skim and smooth the figure
Reinforced flatlock seams for added comfort and durability
Longer length to avoid riding up during activity
Handy in-built transparent, waterproof iPhone arm pocket to allow use of your phone without having to take it out – perfect if working out in the rain!
Concealed secure pockets at the hips to hold valuables, and inner key loops
Thumbholes to keep sleeves where they're supposed to sit (and hands warm in the winter!)
Hooded Body Blazer
Offering all the same great features of the Full Body Blazer, this style offers an added waterproof hood, giving extra protection against the elements when exercising outdoors
The Hooded Body Blazer also differs in fabrication across the chest, with Zaggora's cooling jersey fabric taking the place of neoprene – making it perfect for those who want less heat across their chest when working out
Hot Top
The main body of the vest is crafted from neoprene fabric lined with Celu-Lite technology, targeting the stomach, chest and back
Contrasting side panels and straps are fabricated in sportsmesh and Zaggora's cooling jersey to release heat and allow air to circulate, while the cooling jersey refreshes you during your workout
Slick racerback design to allow easy, restriction-free movement of the upper body
Contoured flatlock seams to flatter and shape the figure, while giving maximum comfort
Longer length to avoid riding up during activity, with vest sitting on hips
Available in black, pink and blue colourways
Coola Bra
Bra top made from Zaggora's unique jersey fabric, offering cooling sensation which absorbs sweat quickly, trapping odours and making your workout more comfortable
Mesh vents in front and back of bra to release heat and allow air to circulate
Constructed using four-way stretch fabric for comfort, flexibility and easy movement, suitable for medium-impact activity
Racerback design to allow easy, restriction-free movement of the upper body
Removable bra cups for those who want extra shape and coverage
Can be layered with Hot Top for contrasting look
Available in 9 colourways from neutral shades to eye popping brights
These new additions to the Zaggora range are being introduced in response to customer demand from women who want to be able to target their upper body problem zones in the same way that HotPants tackle the legs and bum. Designed to be worn individually or layered together, each piece is cut to highlight the curves you love and flatter the ones you don't.
Zaggora commissioned independent research on the effects of Celu-Lite technology as used in HotPants, which was conducted at the Chelsea School of Sport, University of Brighton. The research compared HotPants to a standard exercise garment when worn during 30 minutes of exercise, and also examined the effects over longer 2 and 4 week periods. The findings revealed:
HotPants were shown to increase body temperature during exercise
Wearing HotPants during at least 30 minutes of exercise increases energy expenditure by 11.3%
Furthermore, HotPants increase energy expenditure by 12.5% in the 30 – 60 minutes after exercise (when HotPants are worn during resting recovery)
Over a four week period, HotPants were shown to increase weight loss, with each subject losing an average of 0.6kg, which was a trend not seen in the control group
Over a four week period, subjects were shown to become more energy efficient and therefore fitter when wearing HotPants vs. the control group
In order to see benefits from HotPants, at least 30 minutes of activity conducted with at least moderate intensity is required
This scientific research backs up the real-life results hundreds of thousands of Zaggora customers have reported on the brand's Facebook page and at Zaggora.com – which has an incredible cult following of 314,000 fans. This enthusiastic and dedicated community of customers has helped to grow the Zaggora revolution through word-of-mouth, as women share their success stories and photos online and with friends. The brand has also been snapped up by active celebrities from Denise Richards, Kristin Cavallari and Rocsi Diaz in the States to Tess Daly, Lauren Goodger and Natalia Vodianova in the UK. But don't just take our word for it – see what Zaggora customers have to say about their results online at http://www.facebook.com/zaggora and read the latest case studies at http://www.zaggoragirl.com.
The Zaggora upper body range will launch online at http://www.zaggora.com on 15th October, with prices ranging from £30 – £90.
For further information, contact Laura Robinson at Zaggora on laura(at)zaggora(dot)com
NOTES TO EDITORS:
Zaggora creates smart products for smart women, which are designed to fit easily into every woman's lifestyle no matter how busy they are – helping them lead happier, healthier and better lives. The company is the brainchild of 28-year-old ex-Investment Banker Dessi Bell, who came up with the concept after she struggled to find an effective solution to lose weight and tone up in time for her wedding. After being disappointed with so many other products in her quest to shape up, Dessi decided to design her own product that would look good, be easy to use and give genuinely effective results for all women, from on-the-go mums to time-poor high fliers. After extensive research and experimentation with countless prototypes, Zaggora HotPants were born.
Since the launch of the brand in July 2011, over 500,000 Zaggora products have been sold in 119 countries around the world and the company has been nominated for awards including the Retail Week Technology Awards, the Drapers and Retail Week PayPal Etail Awards and the 2012 National Business Awards. As co-founder of Zaggora, Dessi Bell has been named as one of Management Today's 2012 35 under 25, was shortlisted for the 2012 Specsavers everywoman Awards and is a finalist in Shell's 2012 Women of the Future Awards.