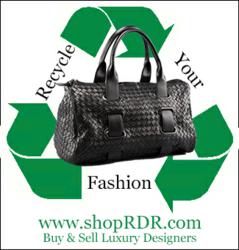 They were in a deep conversation, then later appeared to be getting devices out to discuss design ideas.
(PRWEB) November 12, 2012
To help luxury lovers stay informed on the latest in upscale style and Hollywood happenings, Rodeo Drive Resale (http://www.shopRDR.com), premier reseller of 100% authentic Chanel Wallets, Christian Dior handbags, and Fendi accessories, looks at the latest happenings in the world of upscale fashion and celebrity style.
KARL LAGERFELD AND KANYE WEST TAKE NEW YORK: Chanel's creative director and hip hop's most fashion-conscious personality were spotted in New York in late October, and while the details behind their meeting are not readily available, many suspect there may be a design collaboration between their pair in the near future. "They were in a deep conversation, then later appeared to be getting devices out to discuss design ideas," a source told the New York Post. In January West revealed he had been through a fashion crash course of sorts, visiting and working under the guidance of the biggest names in luxury clothing: "I had this opportunity to intern at Fendi and was also offered a position at Versace which I could not take due to my contract with LV which was for 2 years. I moved to Rome after I left Japan and worked at Fendi for 4 months undercover. I was there to give ideas for the men's collection. I snuck to Giuseppe Zanotti's factory still under contract and learned to design women's shoes for 2 years before my first show in Paris."
CHRISTIAN DIOR AD GETS RED LIGHT IN UK: The United King's Advertising Standards Authority (ASA) has taken issue with a recent Chanel ad featuring Oscar-winning actress Natalie Portman. The independent watchdog organization, which closely regulates advertising across all media in the U.K., has come down on a Natalie Portman ad for Dior's "Dior Show New Look Mascara." A story by the Telegraph states that a single complaint was filed with the ASA accusing Dior of airbrushing the ad, exaggerating the advertised effects of the "multi-dimensional volume and treatment mascara." In a surprising twist, it was later revealed that the complaint was actually filed by rival brand L'Oreal UK, which itself has been on the receiving end of an ASA ban in the past.
FENDI GOES GREEN: "What I did was simply to add my already existing know-how I had from my family to my new vision of the fashion industry," said Ilaria Venturini Fendi, who was in Dallas in late October to ring in Italian Fashion Week at the Dallas Market Center. Ilaria grew up in a famous fashion family and has created a line of bags that incorporate used items ranging from old light switch plates to leather seats from cars once used in crash tests. Luxury lovers that would similary like to share their love of Mother Nature are encouraged to buy from sites such as shopRDR.com, where buyers can find great deals on previously loved authentic fashions by Fendi, Christian Dior, Chanel and more.
Rodeo Drive Resale (shopRDR.com) has built a reputation of providing amazing deals on handbags, clothing and accessories from the top designers of upscale fashion. The company offers a 100% guarantee of authenticity on each item sold, and works daily with a network of clients looking to buy, sell, or for consignment of their luxury goods.
ShopRDR.com loves high-end fashion, and believes finding a high quality, classic piece should be an easy, enjoyable -- and most importantly -- hassle-free shopping experience. For the finest in Louis Vuitton, Chanel, Prada, Gucci, St. John Knits, Christian Louboutin, Tiffany & Co. and more, visit RDR online at http://www.shopRDR.com or call 1-888-697-3725. Also find shopRDR.com's blog at http://blog.shopRDR.com.
Also find shopRDR at:
Blog: blog.shopRDR.com
Facebook: facebook.com/shopRDR
Twitter: twitter.com/shopRDR
YouTube: youtube.com/ shopRDR
Pinterest: pinterest.com/shopRDR
Rodeo Drive Resale (shopRDR.com)
1-888-697-3725
service(at)shopRDR.com