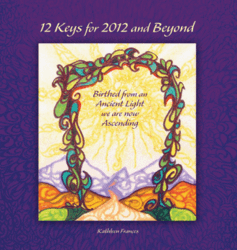 In this extraordinary time of tumult and change, these 12 Keys provide a strong guiding light that leads readers to embrace life and find their path to self-mastery.
Minneapolis, MN (PRWEB) November 02, 2012
"12 Keys for 2012 and Beyond" (published by Balboa Press), a new book of meditations and prayers by Kathleen Frances, aims to show religious seekers and skeptics a new form of spirituality based on the inclusive concept of the Divine Feminine.
Frances, a spiritual sciences teacher and the director of The Lighted Way Fellowship, says the text of the book was channeled to her by her late teacher, Muriel Isis, an embodiment of the Divine Feminine who founded the fellowship in the 1960s.
Subtitled "Birthed From an Ancient Light We Are Now Ascending," the book emphasizes the divine nature of humanity and opens the door to the light of our inner being, so we can attain our full potential and overcome distractions that weigh down the soul.
"It provides keys to true liberation – where spirit has dominion over matter," says Frances. She says her book is also an attempt to demonstrate the unity and commonalities that exist between science and religion, as well as the world's major faiths.
"Whether you're on your own spiritual journey or part of an organized religion or a science-based seeker, this book is for everyone – it's inclusive," the author says. "Children will love the pictures, as will the child in all of us."
People struggling with stress, religious identity, loneliness, depression, or the search for meaning and purpose in their lives will find in "12 Keys" a sense of tranquility and quiet reflection that will help facilitate spiritual renewal and personal discovery. These "Keys" will light your path, sparking your own divinity, and lift you into your higher self.
Featuring beautiful full-color illustrations by Minneapolis artist Carisa Ruby Town, "12 Keys to 2012 and Beyond" will transform the spirit of those who immerse themselves in its positive, healing wisdom.
About the Author
Kathleen Frances is a certified teacher of spiritual sciences: tarot, astrology, numerology, past lives, channeling, meditation, and light therapy. She holds a B.S degree in sociology and psychology. She has been a social worker, peace and civil rights activist, counselor, teacher, parent, health and wellness trainer, songwriter, and performer. Through a series of dreams, Frances was led from Minnesota to The Lighted Way Fellowship in Santa Monica, Calif., to begin in-depth studies and training with Muriel Isis, Doctor of Divinity, M.S. Family Counseling. Muriel, who founded The Lighted Way Fellowship in 1966 and drew students in from around the world, was recognized in the World Who's Who of Women; she hosted radio shows and wrote many books. Beginning in 1975, Frances was groomed to become the director of The Lighted Way Fellowship, her current role. In 1999, Muriel Isis went to the other side to expand her work as the Cosmic Mother Isis and has continued to guide from above, heralding in this Golden Age, through the ascension of our Earth.