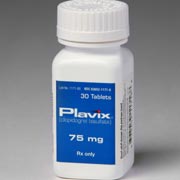 (PRWEB) November 02, 2012
Plavix is a drug used to treat blood clots and reduce the risk of heart attack, however it has recently been linked to severe side effects including strokes and gastrointestinal issues. Plavix was approved by the FDA in 1997. Since then, the has been linked to a variety of dangerous side effects including:

Heart attacks
Strokes
Ulcers
Cerebral Bleeding
Gastrointestinal Bleeding
Damaged Bone Marrow
Attribution: http://www.fda.gov/NewsEvents/Newsroom/PressAnnouncements/ucm204253.htm
Obviously, the above side effects are extremely serious in nature and can be fatal. Also, although one of the main uses for Plavix is supposed to be the prevention of heart attacks, it its currently under investigation for potentially increasing the chance of heart attack. It is argued that Plavix offers no benefit over other anticoagulant/antiplatelet therapy. Patients taking Plavix have also been found to be up to twelve times more likely to suffer from ulcers, gastrointestinal bleeding or cerebral bleeding than those on a simple aspirin regimen. The FDA has also recently approved the generic version of Plavix despite the risks associated with it. This means that more patients will have access to the drug and thus be vulnerable to its dangerous side effects.
People who have been prescribed and are taking Plavix should be on the lookout for these symptoms, which could be linked to the health issues above.
Changes in personality or moods
Confusion
Clumsiness
Blurry or lost vision
Slurred speech
Headache
Dizziness
Incontinence
Numbness
Attribution: http://www.foodconsumer.org/newsite/Non-food/Drug/plavix_1010120711.html
If you have been prescribed the blood clot medication Plavix and are experiencing any of these symptoms you are encouraged to speak with your doctor immediately. Also, please speak with your doctor before discontinuing use of Plavix. If you believe that you or one of your loved ones have been injured by Plavix, you may want to speak with a personal injury attorney regarding a potential claim. An injury lawyer familiar with new developments in the investigation of Plavix may be able to help you make important personal and legal decisions. d'Oliveira & Associates, P.C. is working with some of the leading lawyers in the country who are handling these cases. Once again, d'Oliveira & Associates is offering a no win, no fee promise, meaning there is no financial obligation on you unless your claim is successful.
Please contact the law offices of d'Oliveira & Associates, P.C. at 1-800-992-6878 or visit Plavix Heart Attack Lawsuit Lawyer for a free legal consultation.