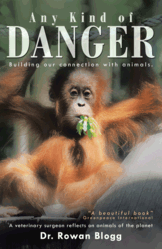 Rowan Blogg examines the role of wildlife on the planet, millions of years before humans became dominant. Now, with huge threats to habitats and species around the world, he details the profound moral lessons to be learned from how we treat animals.
MELBOURNE, Australia (PRWEB) November 02, 2012
"Any Kind of Danger" (published by Balboa Press), a new book by award-winning veterinarian Dr. Rowan Blogg, will change the way people think about their relationships with animals.
Subtitled "Building Our Connection With Animals," Blogg's book is a plea for compassion toward not only endangered species, but all animals great and small. Drawing inspiration from the moral philosophy of Peter Singer and the poignant storytelling of James Herriot, the author compels humanity to understand more about Earth's animals in order to protect them from abuse and ultimately extinction.
Deeply researched commentary on issues such as factory farming, overfishing, poaching, and loss of habitat is interspersed with vignettes from Blogg's career in veterinary science. "Any Kind of Danger" also tackles controversial topics such as the use of farmland to perpetuate meat-based diets and over-breeding of glamorous but genetically harmful traits in dogs, cats, and other domestic animal species.
Blogg, who earned a master's degree in ophthalmology at Kansas State University, has been honored by Queen Elizabeth II as a member of the Order of Australia. He says his work with guide dogs for the blind inspired him to write "Any Kind of Danger."
"Animals can teach us to love ourselves and the planet," he says. "We are their guardians. And in return, they show us compassion, lift our mood with their sense of fun and loyalty, and make us feel whole, more wanted, and more loved."
Blogg's book also aims to help children understand that animals aren't meant to be exploited – not only for their future, but the future of the planet.
"We need to teach young people to respect all life. People find unconditional love a big challenge, but animals do it all the time. Love yourself, love your neighbor, love the planet."
About the Author
Dr. Rowan Blogg, diplomate of the American College of Veterinary Ophthalmologists, was the first registered veterinary specialist in Australia and a pro bono vet for seeing-eye dogs for 25 years. His books include Everydog with co-author Eric Allan and four volumes of The Eye in Veterinary Practice. In 1998, he was Professor of Veterinary Ophthalmology at Ross University.