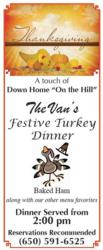 More than Rooms with a View!
Belmont, CA (PRWEB) November 16, 2012
The Van's Restaurant, a premier fine dining restaurant on the SF Peninsula, recently announced that it has crafted a special menu for the Thanksgiving holidays. The menu features some of The Van's best loved entrees, in addition to traditional Thanksgiving holiday favorites. The restaurant will begin serving Thanksgiving dinner on November 22, 2012 at 2:00 p.m. and reservations are recommended.
"Join us at The Van's Restaurant this Thanksgiving to enjoy all of your favorite holiday foods without the hassle," said Loring De Martini, owner of The Van's Restaurant. "For a touch of down home "on the hill," come to The Van's Restaurant for our Festive Turkey Dinner--make it a family tradition!"
Featured Appetizers include Polenta Stix, the Soup of the Day, Oysters Rockefeller, Onion Soup au Gratin, Escargot, Fried Calamari, Sauteed Garlic Prawns, Prawn Cocktail, Bacon Wrapped Prawns, Stuffed Mushrooms, Salmon Cakes, and Mesquite Artichoke.
In addition to their succulent traditional Thanksgiving turkey and Virginia baked ham, the special Thanksgiving menu will also include numerous entrees, such as Linguini Primavera, Fried Prawns, Genoese Pork Chop, Salmon, New York Steak, Blacken Filet Mignon, Prime Rib Au Jus and Maine Lobster Tail. The Thanksgiving menu is completed with a distinctive selection of The Van's Restaurant's decadent desserts.
The Van's Restaurant also offers private banquet rooms, which can accommodate up to 125 guests and are the perfect venue for a private party, large holiday gathering or corporate event. For complete information about The Van's Restaurant on the Hill and the new Thanksgiving holiday menu, visit their website at http://www.thevansrestaurant-bayarea.com or call (650) 591-6525 to make a reservation.
About the company:
A favorite among locals and out-of-town visitors to Belmont and neighboring cities on the peninsula, The Van's Restaurant offers a warm & friendly atmosphere, quality food, and beautiful Private Party Rooms with amazing Bay Area views. They welcome guests to call them at 650-591-6553 today to make a reservation, purchase gift certificates, or to help plan a private party event. The Van's Restaurant is located at 815 Belmont Avenue in Belmont, CA. For more information visit their website at http://www.banquetroomssanmateo.com.