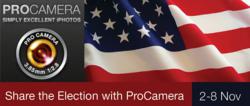 Share the moment!
San Francisco, CA (PRWEB) November 02, 2012
Photography is about capturing and sharing moments. ProCamera is about facilitating the process of taking great pictures and building communities around them. This shared event about Election is from Nov. 2 to 8. People can share pictures of the days before, during, and after the election. Any photo, about the community, of the polling booth, or the election party, anything associated with the view of the democratic process in action can be shared.
See The ProCamera Blog: http://blog.procamera-app.com/ for details. People can share photos through Instagram, Flickr, or by uploading to a form. Five photos that best catch the spirit of democracy in action will be chosen for great awards.
"We saw in the Arab Spring how powerful the Internet, social networking and mobile computing can be as a force for democracy." Cocologics' CEO, ProCamera's creator, Jens Daemgen said, "At ProCamera we thought it was time to help leverage these technologies to support democracy in America. Democracy is the ultimate communal experience. Millions of people come together and share the experience of learning about candidates, voting, and finding out the results. If we can make the democratic experience more inclusive, more intense, more a part of people's identity and community, then we make our communities and our democracy stronger."
"This is the reason we are promoting our 'Shared Event: Election Day'." Jens said, "We want to bring these world changing technologies back home to the US. We want to support democracy here, to build our sense of common purpose and participation. And we couldn't think of a better way for us to do it than with ProCamera."
ProCamera is a full-featured 5-in-1 app that has still camera and video, photo editing tools, social networking support, and camera related utilities. ProCamera sets the standard as the most professional camera app with its high-end features and has gotten numerous awards. ProCamera has been #1 in 68 countries in Photo & Video category. ProCamera HD for iPad was released recently as the first full-featured iPad camera replacement app and has been a big success worldwide. The ProCamera brand has approximately 1 million dedicated and active users the world over, and about 1 million photos are taken everyday worldwide with ProCamera and ProCamera HD.
For more information and media requests, please contact:
Jens Daemgen
1.415.704.0207
ll(at)daemgen(dot)net
Pricing and Availability: $0.99 for ProCamera and $1.99 for ProCamera HD (or equivalent amount in other currencies) and available worldwide exclusively through the App Store in the Photo & Video category.
ProCamera (for iPhone): http://itunes.apple.com/us/app/procamera/id300216827?mt=8
ProCamera HD (for iPad): http://itunes.apple.com/us/app/procamera-hd/id549558641?mt=8
Instagram: http://web.stagram.com/n/procamera_app/
Flickr: http://www.flickr.com/groups/procamera-app/
About the company:
Cocologics is the technology leader in mobile photography software on iOS and one of the leading producers of mobile eLearning systems.
Committed to sustainability, Cocologics develops cutting-edge software solutions, which meet the highest demands in quality, aesthetics and simplicity.