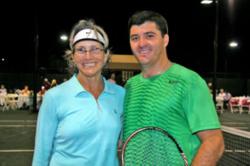 Bonita Springs, Florida (PRWEB) November 02, 2012
The venue is set. The volunteers are prepared. The corporate sponsors are in place. The best tennis professionals and amateurs are gearing up and getting ready. And the team captains of Naples, Pete Minarich, and Fort Myers, Jeff Timmer, are setting their game plans for the 32nd Annual Naples - Fort Myers Tennis Challenge. Here are some insights into a few of the 22 matches that will be played between 2:00 and 5 p.m. on Saturday, Nov. 10, 2012.
There will be 36 outstanding players on each team. Some scheduled to play include Wimbledon Champion Joanne Russell and ATP tour player world-ranked Jesse Witten. Tye Myers and Tyler Owens are one of the top-tier doubles teams in the area but are splitting up for the Challenge and playing for opposing teams.
Former Clemson Tiger and Barron Collier tennis coach Tyler Manring and former Florida Gulf Coast University top player Jose Pastrello team up against two of FGCU's current best. Terry See, singles and doubles winner of the USPTA Grand Master Tournament, and partner Steve Shriner, USPTA National Champion, take on professional Tad Connerton and Doug Welsh, Quail Creek's tennis director and USPTA professional.
Phil Landauer, University of Arkansas star and winner of more than 30 USTA singles and doubles championships, will take on T. A. Niles, who is a University of Hartford Hall of Fame inductee and its No. 1 singles player. University of Florida and NCAA Champions team member All-American Paula Scheb and doubles partner and former University of Delaware tennis coach Holly Chomyn team up again this year trying to match their success of a year ago.
Also on the roster are George Wachtel, Franco Mato, Eddie Neese, Ido Abougzir, Alejandra Aguilar, Scott Harrington, Carlos Huerta, Jonathon David and Denny Rager.
The Challenge is a community event, opened to the public. There are no admission or entry fees. Paula Scheb, director of tennis at Bonita Bay Club, stated, "We expect hundreds of tennis fans, including friends and relatives of the 72 individual players who are taking part in this fantastic, exciting competition. It's a great afternoon of tennis that will run from 2:00 until about 5:30 p.m. There will be a players' party that evening provided by our great friends at Carrabba's Italian Grill."
Sponsors are Ritzman Tennis, the area's largest tennis courts contractor; Carrabba's Italian Grill of Bonita Springs; and ASG Software Solutions, an international leader in business software, based in Naples.
Food and beverage proceeds and fan donations Proceeds will benefit the children's programs of Lee County Community Tennis Association and the Boys and Girls Clubs of Collier County. To learn more about the Naples-Fort Myers Tennis Challenge visit http://www.naplesftmyerstennischallenge.com
Bonita Bay Club is located at 26660 Country Club Drive in Bonita Springs. Visit its website at http://www.bonitabayclub.net.
Contacts:
Paula Scheb, Director of Tennis, Bonita Bay Club
Office: 239-495-3573, Cell: 239-851-0921, Paulas(at)bonitabayclub(dot)net
Becky Salaun, Director of Communications, Bonita Bay Club
949-5023, BeckyS(at)BonitaBayClub(dot)net