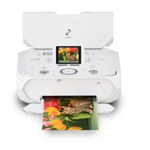 Atlanta, Georgia (PRWEB) November 02, 2012
10rate editors Brian Jones and Steve Holdgren cut through all the choices out there in the photography category to come up with their top choices. According to the Best Photo Printer page at 10rate.com they selected their top choices based on the following criteria:
1. Picture quality based on dots per inch (dpi)
2. Portability of the printer
3. Size prints the printer can make
4. Features like Bluetooth and wireless out of the box
5. Printing technology
6. Speed of the printer
7. Cost
Canon, HP, and Epson all had highly rated printers according to the reviewers. They said, "This is one high quality photo printer. Canon really turned up the quality when they put together the Pixma mini 320. The dots per inch rating is incredibly high, double that of some of the other printers on the list ," when reviewing the Canon Pixma mini320.
Editors also evaluated and selected the Best Tripod based on the following:
1. Durability for field work and long term use
2. Lightweight while still maintaining the strength to carry a heavy load
3. Highly adjustable legs and mounts
4. Pistol-grip and ball type heads for minute adjustments
5. Maximum height of the tripod
6. Compatibility with many camera sizes
7. Extras like carrying bag and extra mounts
According to reviewers Vanguard, Slik, and Ravelli figured prominently in the rankings. When reviewing the Slik tripod, editors noted some of the highlights. "The Slik Pro 700DX tripod is truly a solid tripod. With the ability to hold up to 15 pounds and extend to a maximum height of almost 75-inches, you will be hard pressed to find a time when this tripod won't get the job done. It features alignment grooves on the legs to prevent leg twist, a quick-release mount with dual safety locks."
Lastly, editors chose the Best Photo Editing Software with Adobe, Corel, and Serif all being selected according the the Top 10 list. The Adobe's software is "very good at three things: editing, organizing, and sharing. This balance is where you are going to see Elements beat out many other programs at this level. This is because Adobe created Elements program with the everyday photographer in mind. "
10rate.com conducts reviews in various product and services categories and publishes "Expert Top 10 Lists for Everything in your life." The company's web site strives to "Make it Easy" to select from the hundreds of choices there are in the product and service market place. All products and services are thoroughly researched by the companies expert editors prior to receiving a rating on a 1-10 scale. In addition to product reviews the companies editors write guidelines, buying guides and articles on various topics surrounding each product or service category covered to help educate the consumer.