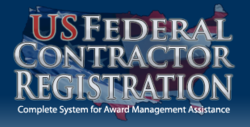 Orlando, FL (PRWEB) November 06, 2012
Due to all the damage done from the mega storm Hurricane Sandy and the recent earthquake in Northern New Jersey in the aftermath, many businesses have been interested in becoming registered for federal government work. In order for a company to perform contract work for the federal government they must become registered with SAM (System for Awards Management).US Federal Contractor Registration is a third party that assists business owners in getting registered to do business with the federal government. US Federal Contractor Registration helps clients build a proper profile and market that profile to the federal government. Below is a brief description of why US Federal Contractor Registration was created.
In 2009, the Federal government set aside over $442 billion to be spent with small businesses; however less than 22% of that money, totaling approximately $96 billion, was actually awarded during 2009. Government buyers stated there were not enough qualified, properly registered small businesses to award the set-asides to. Instead, buyers have been turning to large companies to meet their needs and award contracts to.
In order for businesses to work for the federal government they must first be registered with System of Award Management (SAM). Small businesses can go online and try to register on their own however due to the tremendous amount of information and work necessary, potential vendors end up make mistakes in their registration or giving up. The time necessary to learn and complete the registration process, often in excess of 20 hours even for advanced users, was identified as the biggest obstacle preventing new vendors from getting registered. It can take up to 7 hours to process and takes the federal government 5 to 7 days to activate. US Federal Contractor Registration solves this problem by giving businesses the option to pay $599.00 to have a Case Manager complete and file the SAM registration on their behalf. Once registration is completed, US Federal Contractor Registration takes it a step further and distributes the new vendor's information to government buyers in a monthly regional newsletter.
The demands of running a business in today's economic climate mean that business owners often can't afford to take on a project that can easily take several weeks to complete. By turning to US Federal Contractor Registration, new vendors can satisfy all the registration requirements in less than 2 weeks, allowing them to bid for and accept federal work. Clients of US Federal Contractor Registration not only save time but also have peace of mind knowing their registration paperwork has been successfully filed. Even federal agencies and multinational corporations turn to US Federal Contractor Registration to perform and maintain registrations, ensuring the filings are accurate and up to date to prevent delayed Federal Government payments.
Government contracting can be extremely rewarding for a company, but today's small business owners often don't have the extra resources to devote to government contracting without outside assistance. US Federal Contractor Registration makes it possible for all small businesses to participate in Federal Contracting.
US Federal Contractor Registration is the first and largest registration firm, with corporate offices in Orlando, FL. US Federal Contractor Registration has helped thousands of businesses complete their SAM registration and bid on contracts. US Federal Contractor Registration pairs businesses with a dedicated case manager who helps them every step of the way from initial registration to bidding on contracts. US Federal Contractor Registration's BBB rating is A- thanks to the quality of their service and responsiveness to customers. To request a free evaluation and assessment by a Placement Specialist for your business, call the Contractor Helpline at (877) 252-2700 ext 1 or visit our website at https://www.uscontractorregistration.com/.