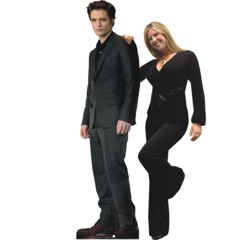 Chicago, IL (PRWEB) November 06, 2012
Twihards--diehard Twilight fans--everywhere are anxiously awaiting the premiere of the final installment of The Twilight Saga: Breaking Dawn Part 2. The film will premiere everywhere in the United States on Friday, November 16th. Presale tickets went on sale October 1st and have already set record breaking numbers. According to E! News, as of late Tuesday, October 2nd, the film had already grossed $1.17 million in ticket sales, which is 87% more than The Twilight Saga's Breaking Dawn Part 1.
Select theaters across the nation will be hosting Twilight Marathons where fans can watch the first four films leading up to the premiere of Breaking Dawn Part 2. This all-day, ten hour event will begin around noon on November 15th and continue until the premiere at midnight on November 16th. The biggest fans will be getting into character, whether they dress up as Bella, one of the other vampire costumes, or as one of the werewolves. Windy City Novelties online party store offers costumes and accessories for both werewolves and vampires. By this point in the films, Jacob and Edward are somewhat friends, but Twihards can still choose to support Team Jacob or Team Edward. Windy City Novelties' wig of Edward's famous hairstyle will be sure to separate the Edward fans from the fans in werewolf masks of the Jacob fans.
For those that cannot afford to skip a day of work or classes the entire day before the premiere, Twilight marathons can be held in the comfort of their own homes. The weekend before individuals can host a viewing party and invite guests with Twilight invitations to watch the first four films. Decorate the house with Twilight party supplies and decorations such as spooky scene setters or vampire fang glitter decorations. Edward Cullen can make an appearance in the form of a 74 inch cardboard cutout. Bloody Fangs Paper Goods will add an eerie touch to the party.
It is rumored that individuals going to see the film are going to get a special treat. MTV.com reported that there is a special bonus scene at the end of the film that may have Twihards in tears over the end of the film series. Twilight officials are not revealing what it will be, and even the cast members are in the dark. There are also rumors of a spinoff film or a TV series to follow the ending of The Twilight Saga. A few have said it might focus on Jacob and the Werewolves in his tribe, or on the relationship of Jacob and Edward and Bella's daughter, Renesmee. Another scenario for the spinoff series that was discussed was focusing on the other vampires that appear in the final film. Whatever the spinoff will focus on, it is said that Kristen Stewart and Robert Pattinson will no longer partake in anymore Twilight endeavors, so fans should grab their Edward Cullen cardboard cutouts while they can!
ABOUT WINDY CITY NOVELTIES
Windy City Novelties, a party supply company founded in 1983, is known for their great selection and competitively priced items. They have an A+ rating from the Better Business Bureau and are also a NexTag 5 star Seller. From their website, windycitynovelties.com, they offer fast and friendly shipping along with great customer service. From glow necklaces in every color of the rainbow, to party decorations in a variety of themes, and even a vast selection of Halloween costumes at the best prices, Windy City Novelties has over 15,000 products and adds more each week.