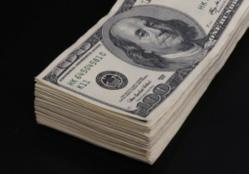 One of the most common bank giveaways you'll run into are cash giveaways.
El Segundo,CA (PRWEB) November 02, 2012
Whether depositors get their hands on free checks or high-interest bank rates, Go Banking Rates found that bank giveaways and incentives truly encourage depositors to open new bank accounts.
In its investigation, Go Banking Rates uncovered the top 7 bank incentives that motivate depositors to pursue new accounts at financial institutions, giving consumers the benefit of convenient and accessible financial products, while receiving the added bonus of free goods.
Stacey Bumpus, financial correspondent for Go Banking Rates explains, "One of the most common bank giveaways you'll run into are cash giveaways. Multiple banks take this route when offering promotions."
In the feature, Go Banking Rates details the leading bank account giveaways that financial institutions use to drive consumers to new bank products:
1. Cash bonuses
2. Anti-virus subscription services
3. Extra airline miles
4. Museum passes
5. Retail gift cards
6. Entertainment tickets
7. Mercedes-Benz vehicles
With a bit of extra time searching, depositors can take advantage of extravagant bank account incentives like extra money or freebies that are potentially worth hundreds of dollars.
Click here to see the full article.
About Go Banking Rates
Go Banking Rates (GoBankingRates.com) a national website dedicated to connecting readers with the best interest rates on financial services nationwide, as well as informative personal finance content, news and tools. Go Banking Rates collects interest rate information from more than 4,000 U.S. banks and credit unions, making it the only online rates aggregator with the ability to provide the most comprehensive and authentic local interest rate information. Go Banking Rates also regularly publishes expert advice from personal finance professionals.
GoBankingRates.com is a division of ConsumerTrack, Inc., an 8-year leader in online lead generation, performance-based marketing, and customer acquisition in the financial, insurance and credit sectors. The company's portfolio of 1500 finance websites includes GoBankingRates.com, GoInsuranceRates.com, and GoFreeCredit.com. These sites receive more than 2 million visits each month.
For questions or comments, please contact:
Jaime Catmull, Director of Public Relations
http://www.GoBankingRates.com
JaimeC(at)GoBankingRates(dot)com
310.297.9233 x261
###