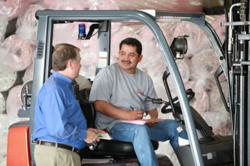 "Our experience has shown us that international borders don't limit workplace problems and having Marketplace Chaplains is very reassuring," said Gene Eggman, EVP/HR for Pace Industries.
Plano, Texas (PRWEB) November 05, 2012
In a rapidly changing world economy, busineses leaders have found that international borders are no barrier to workplace issues or serious personal problems that can arise. In 2012, the trend has become more pronounced with business leaders in Canada, Puerto Rico, Mexico and the United Kingdom are recently turning to the rising strategic business initiative of Marketplace Chaplains to meet these issues internationally
The 2013 work year is expected by experts to continue this unique workplace chaplaincy benefit option began in the U.S. in 1984 and operates in hundreds of companies domestically along with four foreign countries and the Commonwealth of Puerto Rico,.
"We feel the care our Pace associates receive in Mexico and throughout our company is a great benefit. Our experience has shown us that international borders don't limit workplace problems and having Marketplace Chaplains is very reassuring," said Gene Eggman, EVP/HR for Pace Industries who became the service in Mexico this year.
According to a recent Deloitte 2012 HR survey, many companies around the world are moving to new global operating models, driven by the rapid rise of emerging and developing economies — both as customers and as sources of talent — and by continuing pressure to reduce costs.
Historically, companies doing business outside of their home country have tended to rely on one of two operating models. First is an entrepreneurial model (sometimes known as an international model) in which the rest of the world is subordinate to the company's home market. Second is a federated model (sometimes known as multidomestic) in which multiple geographies are all treated as distinct and separate.
Looking beyond these two established models, many leading companies are increasingly shifting toward a third model, where major business operations (including both front and back-office functions) are globally integrated, with the company's home market treated as just one of many global markets.
Puerto Rico is another area where marketplace companies have been very active in the To-Ricos companies.
"The Chaplains in To-Ricos have been here for the last five years. Right now they are part of our group," said Tammy Melendez, HR Manager for To-Ricos in Aibonito, Puerto Rico. "The people respect them and take them into consideration when they have problems and different situations that they have to deal with. The Chaplain group, especially Mike Madera, is very respected in our company. We really appreciate their service."
Mark Bylsma, Co-Owner and President, of Spring Creek Carriers in Beamsville, Ontario, said with his company operating on both sides of the U.S.-Canada border, having a unique workplace chaplaincy service who could work in multiple locations was important to him and his company.
Because of the nature of our business being international freight, we've chosen Marketplace Chaplains to provide Spring Creek with this Care Program, as our drivers may find themselves anywhere in North America when a personal crisis may occur."
While countries, customs and languages certainly can change, the need for professionally trained, third-party Chaplains has proven to work for company executives in many countries.
"Over the last decade of working internationally, we've seen that a country border is no barrier to employees and their family members who experience problems in the workplace and at home," said Marketplace Chaplains' President and COO Dick De Witt, who ran a food brokerage company for more than three decades on the East Coast and made many international business trips, mainly to Canada.
"Marketplace Chaplains have shown a real desire to provide personal and emotional care services to our employees in Canada," Bylsma added.
Marketplace Chaplains also has a large corporate presence in Western Canada which includes service for a national oilfield producer, along with a variety of other businesses in Fort St. John, and Columbia Kitchen Cabinets, Ltd. located in British Columbia.
The Deloitte survey also stated different economies around the world are growing and recovering at different speeds. Mature markets in North America and Europe face flat or uneven demand, while emerging and developing markets — such as China, India, Latin America, Southeast Asia and the Middle East — are widely recognized as the primary engines for future growth.
In Brazil, economic growth continues on the strength of its export economy, but also rising domestic demand. An estimated 35 million people joined the middle class between 2003 and 2009 and 20 million more are expected in the next few years.
For more information on this fast-growing international and domestic corporate strategic initiative featured on NBC Nightly News, CNN, Washington Post, the New York Times and Bloomberg Businessweek, visit http://www.mchapusa.com.
For more information or to arrange an interview with a client company or local chaplain, contact Art Stricklin at artstricklin(at)mchapusa.com or 1-800-775-7657.