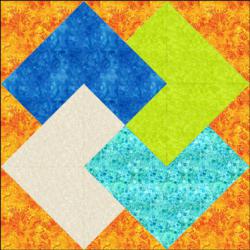 Here you can order fabric, match fabrics, and match thread to your fabric.
St George, UT (PRWEB) November 05, 2012
Superior Threads releases a new quilt block design tool. A major problem faced by quilters is being unsure of how the colors will look together in a quilting block. Online fabric shoppers are particularly susceptible to this dilemma while buying fabric online because they are not able to hold the fabrics next to each other. Superior Threads offers a new online quilting block design tool that allows quilters to choose quilting fabric from their collection and easily add it to a choice of 8 different common quilting block designs.
Based on a desire to make online fabric shopping easier for customers Superior Threads created a quilting block design tool. Shoppers can easily try their hand at designing their own quilting blocks, no matter the fabric; if they carry it shoppers can make a variety of designs come to life. Those interested in using the block design tool should visit http://www.SuperiorThreads.com.
Behind the fabric design tool is an excited quilter. "There is so much fabric out there, no shop can carry them all, so I decided to share my favorite fabrics with others." Says Mother Superior (Heather Purcell), she continues. "We have started our collection of wonderful (even Fabulous!) fabric choices."
Superior Thread has a track record of addressing the needs of customers. They began by offering various sewing and quilting classes and lectures. Today they provide quilters with the opportunity to attend their Superior University covering a variety of topics. Those unable to attend the classes in person can watch a variety of helpful sewing based tip videos on a range of topics on the Superior Threads website.
Superior Threads has also built a thread matching advice box on their website that suggests matching threads for every fabric. "Here you can order fabric, match fabrics, and match thread to your fabric." Mother Superior cheerful boasts. This addresses the online shopper's frustration of buying colors that don't match.
Superior Threads has built a business on providing the craft shopper with the tools they need to complete a successful project. This helpful nature is back by their guarantee which states. "Our Guarantee Superior Threads is the only thread company that absolutely guarantees every spool of thread we sell. Our guarantee is that it will work if you follow the guidelines in our Thread Reference Guides. We also guarantee the best customer service you will ever experience. If you aren't completely satisfied with your purchase, you can send it back."
Superior Threads is a St. Georg Utah based sewing and craft company that has been operating since 1998. For more information please contact Todd Purcell at 435-652-1867 or info (at) superiorthreads (dot) com.