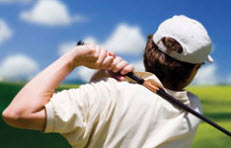 It's a great time to pursue your dream of working in the golf industry.
Birmingham, AL (PRWEB) November 05, 2012
It may surprise some golf enthusiasts who aspire to work in the industry that there are good golf jobs available at some of the finest courses in the world, no matter a person's golf handicap or potential for providing golf instruction as a pro.
"Too often, people who have dreamed about working for a golf course get discouraged because their playing ability is not good enough to be a pro," said Fred Barr, Director of Career Services, Golf Academy of America Phoenix. "But if you have good 'people skills' and a knack for keeping a team on task, you should take a look at golf course management. Some of the most important jobs at any golf course are managing the first-line supervisors of landscaping, lawn service and grounds keeping workers – the people who keep the course in shape."
For some people, a well-maintained golf course is akin to fine art. The manicured greens… The bold sweep of a challenging fairway… Water hazards reflecting the blue sky above... But a well-designed and maintained course doesn't happen by chance. "Stop to think about all of the time and care required to keep a course in top condition," said Barr. "You can earn a degree that equips you with a diverse range of skills from business to tournament coordination to food and beverage to retail. You'll gain skills and hands-on experience to guide you in your career at a place you love. Every employee at a golf club, resort or teaching facility is important to the overall success of the business."
Some of the best golf colleges in the world can be found in America's golf capitals – San Diego, Phoenix, Orlando, Dallas, and Myrtle Beach. Golf Academy of America has campuses in each of these locations, with programs that can prepare anyone with a love of the game for a golf career.
"Currently, the golf business is a $76 billion industry worldwide," stated Barr. "As exciting young players come on the tournament scene each year, interest and participation in golf continues to grow. It's a great time to pursue your passion and dream of working in the golf industry."
Fall is an especially important time of year for golf course professionals responsible for working with the lawn service and groundskeeping crews at courses throughout the U.S. "For some parts of the country, fall and spring are 'shoulder seasons' when it comes to course maintenance," said Rich Iorio, campus director at the San Diego campus. "First-line supervisors are responsible for overseeing the people who put the course to bed for the winter, and wake it up again in the spring. The difference between a course that was in proper condition before cold weather and snow cover set in, and a course that has not been properly prepared, is huge. The responsibility that goes along with preparing the club and its grounds is tremendous."
In warm weather destinations, fall is spent getting courses in shape for 'high season' and ready for tourists looking to escape the chill of winter. "Many resorts and clubs in the south and west make the majority of their revenue during the winter tourist season, so it's critical that their courses be in peak condition when the crowds arrive," said Mr. Iorio.
Golf course management is just one aspect of the degree programs available from facilities like Golf Academy of America. "Our graduates are trained and qualified to pursue a golf career in many different areas," said Barr. "Hotels and resorts are a natural fit for some grads, but others go to work for teaching centers, and some have even started their own golf businesses."
About Golf Academy of America
Golf Academy of America (formerly the San Diego Golf Academy) is the largest and longest-running two-year golf college in the world. Golf Academy of America's 16-month program balances classroom studies, practical experience and comprehensive understanding of both the game and the business of golf. Campuses are located in Dallas, San Diego, Phoenix, Orlando and Myrtle Beach.
Visit the Golf Academy of America website at http://www.golfacademy.edu or call 800-342-7342 for more information. The schools are owned and operated by the Education Corporation of America, headquartered in Birmingham, Alabama.