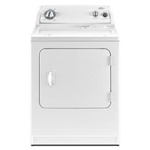 Atlanta, Georgia (PRWEB) November 06, 2012
10rate editors Brittany Rowland and John E. Moore cut through all the choices out there in the appliance category to come up with their top choices. According to the Best Electric Dryer page at 10rate.com they selected their top choices based on the following criteria:
1. Choices of cycles and temperature selections
2. Drum capacity
3. Ability to stack or use a pedestal
4. Sensor and auto dry abilities
5. Inclusion of features like lighted drum or steam drying
6. Price and performance
Samsung, Whirlpool, and Maytag all had highly rated electric driers according to the reviewers. Editors said, "This is one of the few electric dryers on the list in incorporate steam into the drying process. Many gas dryers utilize this feature to help reduce wrinkles and keep clothes looking and smelling fresh after the drying process. The electric model from Samsung is no different," when reviewing the Samsung DV405ETPAWR.
Editors also evaluated and selected the Best Gas Dryer based on the following:
1. Number of cycles and temperature selections
2. Drum capacity and durability
3. Ability to stack or use a pedestal
4. Sensor drying ability
5. Steam drying to prevent wrinkles
6. Price versus performance
According to reviewers Samsung, Maytag, GE figured prominently in the rankings. When reviewing the Maytag gas dryer, editors noted some of the highlights. "Maytag has upped the ante and included commercial dryer parts into this dryer. That is a statement of quality in itself. What parts you ask? They included a high perfomance dryer motor, premium dryer rollers, and a durable 5-rib belt. Good parts are a reason to rest easy. It is also quite a big dryer with a drum capacity of 7.4 cubic feet."
Lastly, editors chose the Best Dryer with GE, LG, and Electrolux all being selected according the the Top 10 list. The The GE dryer provides "an incredibly large stainless steel drum capable of holding your bulkiest loads. Its cycle options are quite comprehensive, even offering special care for active wear—your kids' sports jerseys will come out looking fresh."
10rate.com conducts reviews in various product and services categories and publishes "Expert Top 10 Lists for Everything in your life." The company's web site strives to "Make it Easy" to select from the hundreds of choices there are in the product and service market place. All products and services are thoroughly researched by the companies expert editors prior to receiving a rating on a 1-10 scale. In addition to product reviews the companies editors write guidelines, buying guides and articles on various topics surrounding each product or service category covered to help educate the consumer.