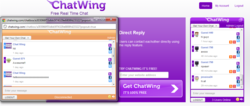 San Francisco, CA (PRWEB) November 02, 2012
Wiki sites are being visited by thousands of visitors on a daily basis. A single wiki site can transfer tons of information through articles and images contributed by many people. Commonly, wiki sites are referred to as "sites by the people, for the people." The Chatwing Team has recently expanded to wiki communities by offering a chat widget that is highly customizable and offers entertaining communication for everyone. The Chatwing app is also user-friendly and can be installed easily.
Border designs are one of the new features of the Chatwing free chat box. With Chatwing's powerful dashboard, users can edit the colors and sizes independently. They can mix and match designs until they find the right one that fits their websites. The Chatwing team has observed that famous colors are orange, green, black, and red. Some people have preferred the default purple theme because it is relaxing to the eye. Wiki site owners can utilize this option to make the Chatwing chat app enticing to visitors.
Background image upload is also possible in this new chatbox version. It was a strategic move by Chatwing's developers—a part of the initiative to bring new chatting experience for web users far and wide. Any background image link is possible, and users can even select from Chatwing app's collection of images. To keep a wiki site more entertaining, Chatwing app also integrates a single MP3 link. The Chatwing team is planning to add a full playlist to push the music leverage higher.
Aside from wiki sites, the Chatwing Dev Team is introducing the free shout box to forum communities and blogging sectors. Large influx of users is now getting into Chatwing shout boxes because of the high rate of accessibility offered.
About Chatwing.com
Chatwing.com specializes in the new field of website chat. Over years, the Chatwing team has introduced live chat widget for hundreds and thousands of blogs. The Chatwing application bridges people from many parts of the world, creating global synergy through the Internet. The shout box can be installed in just seconds, and it can be used for varying purposes such as leisure and Internet marketing. It also allows a user to customize the size, color, and name of the widget. Chatwing is 100% free for everyone.