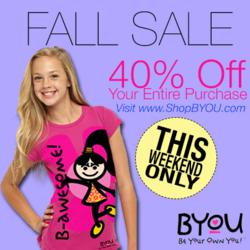 National (PRWEB) November 02, 2012
Beginning yesterday and for the first time ever, BYOU is discounting all merchandise for their Fall Fashion Sale from Wednesday Nov.1 through Sunday Nov. 4. The massive 4-day sale is the only opportunity BYOU has ever launched discounting all merchandise 40 percent-off retail prices. The sale represents the company's growing apparel line with new fashions expected to roll our early 2013.
Statistics show that bullying is at an all-time high with 1 out of 4 kids being bullied and up to 90% of girls struggling with low self-esteem issues. The BYOU brand and empowerment movement is pushing hard this holiday season to inspire parents and grandparents to purchase ideologically positive products that support the movement and educational material distributed by the company, including an editorial magazine tackling tough issues on bullying, internet safety, body image and more.
The girls' self-esteem and lifestyle brand BYOU - Be Your Own You™ is dedicated to spreading a positive message of empowerment to young girls embracing healthy self-esteem and individuality through an apparel and accessory line, editorial magazine and education.
For a limited time fans of the girls' empowerment movement can enjoy their favorite clothing and accessory styles at an incredibly reduced price.
For more information or to shop online visit http://shop.beyourownyou.com/
About BYOU- Be Your Own You is a self-esteem lifestyle brand that was formed with the purpose of empowering girls and women through positive messaging, apparel and accessories; educational programs and editorial magazine. BYOU was formed in partnership with Children's Edutainment Network and Cymphonique Miller. Today, BYOU is building a brand that will touch the lives of girls and women worldwide. For more information, and to check out the online store visit, http://www.BeYourOwnYou.com