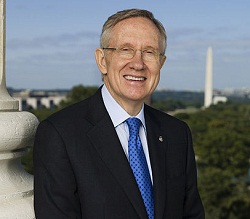 Chain-reaction collisions can result in injuries that leave victims feeling the impact for a long time to come.
Newport Beach, CA (PRWEB) November 02, 2012
Senate Majority Leader Harry Reid was injured in a multi-vehicle, chain-reaction crash in Las Vegas the afternoon of Oct. 26. According to an Oct. 26 news report in USA Today, the injury crash occurred when Capitol Police were driving Reid in a Chevrolet Suburban SUV. The accident occurred on a heavily traveled portion of the Interstate 15 just west of the Las Vegas Strip, home to most of the city's most famous casinos, the report states. Some members of Reid's security detail also suffered injuries, which USA Today reports, are "minor." About six vehicles were involved in the chain-reaction crash, the report states.
"My thoughts and prayers are with everyone who was affected by this crash," said John Bisnar, founder of the Bisnar | Chase personal injury law firm. "I'm relieved to hear that no one suffered life threatening injuries."
Chain-reaction collisions can result in injuries that leave victims feeling the impact for a long time to come, Bisnar said. "These are the types of incidents where victims suffer from whiplash, broken bones, contusions, concussions or strains. These are injuries that are commonly listed as 'minor' or 'moderate.' But those who suffer these types of injuries face significant expenses including medical costs, lost earnings, hospitalization and physical therapy."
In such cases, the best strategy is to not rush and settle with the insurance company, says Bisnar. "You want to wait until you can assess all damages and potential expenses including the cost of continuing treatment and lost future wages. It is very difficult to make such as assessment overnight because, as accident victims find out, a lot of their injuries and symptoms could take weeks or even months to surface."
About Bisnar | Chase
The California car accident lawyers of Bisnar | Chase represent victims of auto accidents, defective products, dangerous roadways, and many other personal injuries. The firm has been featured on a number of popular media outlets including Newsweek, Fox, NBC, and ABC and is known for its passionate pursuit of results for their clients. Since 1978, Bisnar | Chase has recovered millions of dollars for victims of serious personal injuries.
For more information, call 800-561-4846 or visit http://www.california-lawyer-attorney.com for a free consultation.
Source: http://www.washingtonpost.com/blogs/election-2012/wp/2012/10/26/harry-reid-hospitalized-after-las-vegas-car-crash/?print=1