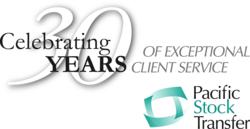 Las Vegas, NV (PRWEB) November 02, 2012
Pacific Stock Transfer Co. is pleased to announce their newest service: free EDGAR and XBRL filings for qualified clients. They take pride in delivering excellent customer service at the most competitive prices. The company is confident that their latest service offerings will allow their clients to bundle services and recognize significant cost savings.
Pacific Stock Transfer is pleased to offer their clients a cost effective way to have their reports filed with the SEC. Formatting or "EDGAR-izing" SEC filings is often an expensive endeavor costing companies up to ten thousand dollars a year. Pacific Stock Transfer Co. recognizes that in these tough economic times that cost is often a major burden to many smaller public companies. Beginning November 15, Pacific Stock Transfer will be offering filing services to new and existing clients. Qualified clients will be able to receive one to two years of free filing services with additional filing services available at competitive a la carte rates.
Pacific Stock Transfer is excited to work with clients throughout the filing process and will provide clear communication pathways to ensure that filings are completed in a timely and accurate manner. Their team has the experience, expertise and professional ability to deliver industry leading solutions that exceed their clients' expectations. Contact Pacific Stock Transfer today and allow them to estimate how much they can help you save.
More information is available at http://www.edgar4free.com or http://www.pacificstocktransfer.com .
ABOUT PACIFIC STOCK TRANSFER COMPANY
Pacific Stock Transfer Company is an independent Stock Transfer Agent, headquartered in Las Vegas, with over 29 years of experience in the securities industry. Registered with the Securities and Exchange Commission, and a member of the Securities Transfer Association, Inc., Pacific Stock Transfer is dedicated to serving the needs of domestic and international companies, both public and non-public. As we celebrate our 30th anniversary, we represent over 900 Issuers, comprised of 250,000+ stockholders.
Pacific Stock Transfer opened in 1983, with the primary goal of providing outstanding customer service, not only to our client companies and their shareholders, but also to the brokerage community. Pacific Stock Transfer brings a depth of knowledge and experience, and a willingness to work with our client base to provide them with the most complete and comprehensive transfer agent services available.