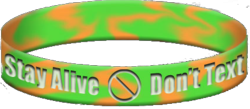 Every 2.6 minutes a Teen is Injured, and every 7 hours, a Teen is Killed by Texting and Driving
Punta Gorda, FL (PRWEB) November 02, 2012
Charlotte Tarpons High School, in Punta Gorda, Fl., was the scene of a PDDA Event that was aimed at cutting down the amount of accidents caused by distracted drivers. The students were very motivated to organize this event and get as many fellow students to sign a "Pledge" not to text, or email, and drive. Far too many lives have been lost for the sake of a text message.
This was the first event for PDDA.org, which stands for: Prevent Distracted Driving Association. Special Thanks go out to Lisa Hamlin who did a great job organizing this important event. It was a huge success as 560 students signed a Pledge, and were given the Symbolic Bracelets to wear in support of their pledge. The students realize the seriousness of texting or emailing while driving, and that as little as five seconds can cost someone their life.
The unfortunate fact is that every 2.6 minutes a Teen is Injured, and every 7 hours, a Teen is Killed by Texting and Driving. It is time for local communities all over this great nation to get involved at the grassroots level. Awareness and publicity of the problem will help to curb its practice. This is a matter of life or death.
Volunteers are sought, and Donations are appreciated. Not many people realize that at 55 mph when making a text message, all it takes is five seconds to cover the length of a football field. A texting driver is 23 times more likely to get into an accident compared to a non-texting driver. If you are a parent of a teen, it's time to realize what is at stake.
There was a recent study done by the University of Utah that concluded that texting or making a call while driving affects a driver's reaction time in much the same way as if they had been drinking. Interestingly, it didn't matter if it was a handheld device or a hands-free device. Research done by Carnegie Mellon University showed that a person loses 37% of their mental function required for safe driving when using a cell phone.
Everybody can get involved with PDDA.org and the movement to prevent these horrible accidents. This is a cause that will skyrocket in awareness in a short period of time. The more folks that get involved, the more lives that can be saved. It is all about spreading the word. Stop by the website, and become part of this fantastic cause. The life you influence could be your child's.
To get involved you can go to PDDA.org and Pledge Not To Text and Drive, or visit PDDA on Facebook at http://www.Facebook.com/StopTextsStopWrecks