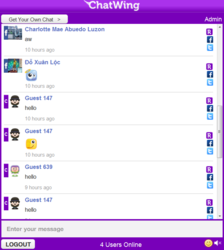 New York, NY (PRWEB) November 02, 2012
The rage of hurricane Sandy has brought many New Yorkers to their heels. The damage brought by the super storm is unimaginable and has caused lives. People around the globe are all vigilant on the updates about the hurricane and for any news about their loved ones located in the East Coast. Chatwing Dev Team timely releases an improved free chat widget that is efficient for global connectivity.
Thousands of users can exchange the latest happenings about the hurricane and extend their support through Chatwing's free chat box. The developed web chat app can accommodate up to a thousand users efficiently. Chatwing chat widget can also be used for group chats allowing only selected chatters to a specific discussion. To use this feature, Chatwing will provide shortlinks that the user needs to send to chosen participants before they can proceed to do group chat. This feature is ideal for family members who want to know if their loved ones are safe and if in need of any help.
Moreover, the global chatbox can also be installed in websites or blogs that are intended for calamity watch and survival tips. Chatwing's installation requires only a few seconds and can be customized to fit the site's theme. Bloggers can change the over all appearance of the web chat tool- from colors to the widget's form. Available forms include regular chat box, pop-up window and vanity URL, each serving specific communication requirements.
Chatwing free shoutbox provides the web or blog administrator full conversation control. Admins can ban users, delete obscene messages and filter out words to maintain order during chat activities. For multiple blogs, admins can also assign moderators to do the monitoring. Chosen moderators need to have a Chatwing account first before they can assume their responsibilities.
Chatwing's global chat box can also be used for improving a site's online presence and promote innovative services and products in the World Wide Web.
About Chatwing.com
Chatwing.com specializes in the new field of website chat. Over years, the Chatwing team has introduced live chat widget for hundreds and thousands of blogs. The Chatwing application bridges people from many parts of the world, creating global synergy through the Internet. The shout box can be installed in just seconds, and it can be used for varying purposes such as leisure and Internet marketing. It also allows a user to customize the size, color, and name of the widget. Chatwing is 100% free for everyone.