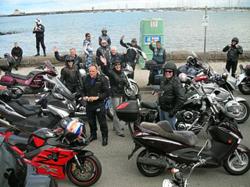 These allegations involve thousands of defective motorcycles on our roadways that could cause serious injuries to the riders and their passengers.
Newport Beach, CA (PRWEB) November 03, 2012
Several federal agencies are investigating Southern Honda Powersports in Chattanooga after a former consultant for the dealership complained to authorities that the dealership sold unsafe motorcycles, ATVs and dirt bikes. According to an Oct. 28 news report in USA Today, the National Highway Traffic Safety Administration (NHTSA), the U.S. Attorney's Office and the Tennessee's Attorney General's office are involved in the probe.
A former marketing consultant for the dealership, Ernest Vickers III, told USA Today that federal regulatory agencies failed to act five years ago and in 2010 when he told them about the dealership unsafely assembling 25,000 new motorcycles, ATVs and dirt bikes between February 2004 and May 2007.
The report states that Vickers accused the dealership of illegally selling thousands of new vehicles that were under safety recall by the federal government without first correcting the problems. Southern Honda's owner, Tim Kelly, has dismissed these allegations as "utter balderdash" or having no substance, according to USA Today. However, nine former employees besides Vickers have signed affidavits corroborating Vickers' allegations. A former sales manager told USA Today that the dealership hired untrained, low-paid workers to assemble the vehicles and that he sometimes had to get a wrench to fix them.
Regardless of whether the allegations are true, it is appalling that the federal agencies waited years to get moving on this investigation, said John Bisnar, founder of the Bisnar | Chase personal injury law firm. "These allegations involve thousands of defective motorcycles on our roadways that could cause serious injuries to the riders and their passengers. Defective motorcycles can result in catastrophic injuries or even fatalities."
Unsafely assembled motorcycles, ATVs and dirt bikes can have a host of problems including instability and loss of control, Bisnar said. "Anyone who has been involved in a motorcycle accident as a result of vehicles purchased from this dealership would be well advised to discuss his or her rights with an experienced product defect lawyer. It remains to be seen if these allegations are true. But, for anyone to put defective products in the market and put profits over public safety is simply unacceptable."
About Bisnar | Chase
The California auto defect lawyers of Bisnar | Chase represent victims of auto accidents, defective products, dangerous roadways, and many other personal injuries. The firm has been featured on a number of popular media outlets including Newsweek, Fox, NBC, and ABC and is known for its passionate pursuit of results for their clients. Since 1978, Bisnar | Chase has recovered millions of dollars for victims of serious personal injuries.
For more information, call 800-561-4846 or visit http://www.california-lawyer-attorney.com for a free consultation.
Source: http://www.usatoday.com/story/money/cars/2012/10/28/allegations-of-sales-of-unsafe-motorcycles-investigated/1664417/
Photo source: http://www.flickr.com/photos/thomasrdororg/3413776852/