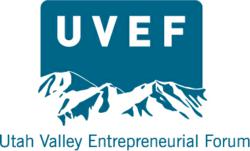 "Induction in the UVEF Hall of Fame results only through a lifetime contribution to the Utah business ecosystem," stated Ken Kaufman, chairman for Utah Valley Entrepreneurial Forum
Provo, Utah (PRWEB) November 02, 2012
The Utah Valley Entrepreneurial Forum (UVEF) this evening inducts George and Olive Osmond into its UVEF Hall of Fame during a program hosted at the BYU Hinckley Center. Inductees represent individuals and organizations with an enduring legacy of entrepreneurial excellence.
Loved globally for more than 50 years in the entertainment industry, the Osmonds, led by George and Olive, are lesser known for their endeavors to provide hundreds of direct jobs, resources and support for Utah's ever-growing economy. Among their accomplishments are the Osmond Studios, Osmond Realty, Stadium of Fire celebration, and other advertising, printing, events, movie production, and live entertainment theaters.
"My parents were really entrepreneurial in the business," states Jimmy Osmond, the youngest of the performing brothers. "They believed you always surround yourself with the best and the best will be your outcome."
Much of the genesis of the Osmond success story stems from the family's efforts to raise funds for hearing aids for the oldest Osmond boys, Virl and Tom. Later, as a result, George and Olive were credited with inspiring the launch of the Children's Miracle Network (CMN) in 1982 with actor John Schneider. CMN, which benefits some 17 million children annually, has raised $4 billion to date.
"Induction in the UVEF Hall of Fame results only through a lifetime contribution to the Utah business ecosystem," stated Ken Kaufman, chairman for Utah Valley Entrepreneurial Forum. "The Osmonds paved a path of success still followed by many successful business ventures."
In 2012, the Osmond Brothers performed to 100,000 in the United Kingdom alone. The number one rated show currently running in Las Vegas is the Donny and Marie Show.
The Osmonds join UVEF Hall of Fame inductees including Stephen R. Covey, Dr. Bill Pope, Harold "Hal" Wing, Eyring Research Institute, WordPerfect, Novell, and BYU Center for Entrepreneurship.
About UVEF
The Utah Valley Entrepreneurial Forum (UVEF) is a volunteer non-profit support group linking entrepreneurs to Money, Markets, and Mentors. Celebrating 23 years of new business success, UVEF empowers current and future business leaders to thrive in today's competitive market. We provide real-world, practical education and valuable resources on how to access needed capital, attract new customers and tap into industry experts. For information on upcoming meetings, speakers and exclusive membership benefits visit http://www.uvef.net.
Press Contact:
John Pilmer
Event Chair & UVEF Board Member
801-369-7535
jpilmer(at)pilmerpr(dot)com
http://www.PilmerPR.com