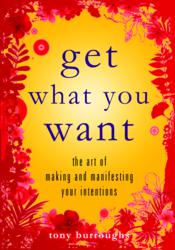 With a ringing testimonial from the publisher at the beginning of the book, Burroughs latest book is almost alive with the energy of joy and abundance.
—Anna Jedriewski, Retailing Insight
(PRWEB) November 03, 2012
When Tony Burroughs was a young man living in Hawaii, an elder philosopher-sage at a nearby fruit farm took Tony under his wing and became the budding seeker's mentor. Over a period of seventeen years, Tony received a body of deep teachings about the meaning of life, the history of mankind, and how to evolve so as to live a life filled with love, peace and abundance. Soon after leaving the farm, Tony and three friends started a weekly Intention Circle. That first humble gathering had dramatic and life-changing effects, leading Burroughs directly to his mission of guiding others in the art of manifesting the best in themselves and the Highest Good. The tenet of Get What You Want is simple, powerful and profound: "that which you are reaching toward is also reaching out toward you."
The Intenders Road Show:
Nov 2 - Tucson, AZ - Bookman's, 6230 East Speedway Boulevard, Tucson, AZ - 12 to 2 pm
Nov 5 - Gilbert, AZ - Wellspring, 1170 N. Gilbert Road, Suite 115, Gilbert, AZ - 6:30 pm
Nov 9 - Phoenix, AZ - The Northern Winds, 5108 North 7th Street, Phoenix, AZ - 6 pm
Nov 11 - Peoria, AZ - West Valley Center for Spiritual Living, 9745 West Peoria Avenue, Peoria, AZ 85345 - 1:45pm
Nov 14 - Scottsdale, AZ - Peace of the Universe, 7000 E. Shea Blvd., Suite 1710, Scottsdale, AZ - 6:30 to 8pm
Nov 20 - Flagstaff, AZ - Hastings Bookstore, 1540 S. Riordan Rd., Flagstaff, AZ - 4 to 7 pm
Nov 23 - Albuquerque, NM - Crystal Dove Bookstore, 525 Central NE, Albuquerque, NM - 7 to 9 pm
Viva Editions are books that inform, enlighten, and entertain. The very name, "Viva!", is celebratory. And while Viva Editions is a line of books that are as fun as they are informational, the intention behind Viva is very serious—these are books that are truly helpful and intended to enhance people's lives. Viva focuses on expansion, courage, and joy in life. In short, Viva is about the very best in the human spirit.