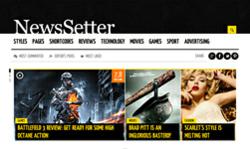 A quality news site needs to have a certain set of features and options that make it possible for anyone to use it.
Bucharest, Romania (PRWEB) November 05, 2012
ThemeFuse - leading provider of premium WordPress themes has launched a new theme - NewsSetter - targeted towards individuals and companies that plan to create a quality news site regardless of the niche they're in. The theme is perfectly suitable for the technology/gadget news niche as well as any other.
News sites are often being launched costing their owners a lot of money. ThemeFuse proves that it doesn't have to be like that, and that every individual or company can start even with a very limited budget.
"We've noticed that hundreds of various news sites are sprouting up every day. The only problem is that the themes and platforms they use are simply not optimized, or clearly overpriced. Our new WordPress theme proves that a top quality product can be launched without much cost," said Dimi Baitanciuc - co-founder of ThemeFuse. "We also understand that design is not the only thing that matters. A quality news site needs to have a certain set of features and options that make it possible for anyone to use it."
The features included in this news WordPress theme that Baitanciuc mentions are: responsive design (suitable for desktop computers, smartphones, tablets, or any other device), built-in SEO features, four pre-made color schemes (and the possibility to set any other shade the user prefers), and many more.
"One of the main goals when working on NewsSetter was to make sure that the theme offers proper presentation on every device, regardless of the screen size. Even if the majority of your visitors prefers to use smartphones and reading content on the go, your site will still look great," said Dimi Baitanciuc.
One more feature that's worth pointing out is the number of available shortcodes. These shortcodes can be used to create well-designed buttons, circle lists, checklists, tables, or charts, and then have them included within standard text content.
The theme can be downloaded from ThemeFuse's website, and then installed in less than five minutes. NewsSetter has been designed to work with one of the most popular website management platforms - WordPress - an open source system widely supported by every major hosting provider.
This new theme doesn't require any programming or web development skills in order to install it, so everything can be done by the customers themselves. ThemeFuse delivers a clever feature called "One Click Auto Install," which sets all the initial parameters of the website and then installs sample data the owners can change later.
Additionally, ThemeFuse offers their users a very friendly support area and comprehensive online documentation.
For more information, and details on how to get and install NewsSetter please visit: http://themefuse.com/wp-themes-shop/news-wordpress-theme/
About ThemeFuse:
ThemeFuse, a commercial WordPress templates shop, focuses on original out of the box design and ease of use for every type of user. ThemeFuse aims at providing their customers with themes that can make every website stand out from the crowd, and also offers dedicated support around the clock.