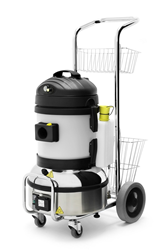 Daimer®'s is proud to offer the cleaning industry's only certified pesticide steam vac device, which has even been scientifically proven to kill some of the deadliest bacteria in the world. We are pleased to help ease the major bed bug problem...
Woburn, MA (PRWEB) November 02, 2012
Daimer Industries, Inc.®, the world's leading brand of steam cleaner machines and vapor steam cleaner equipment with models numbering in the hundreds sold to customers within over 200 nations, is marketing its KleenJet® Mega 1000CVP, which is a certified pesticide device according to the United States EPA (Environmental Protection Agency).
The Mega 1000CVP ATIS® is a a truly unique, professional steam cleaner targeted to those professionals involved with pest control, as well others in the hospitality industry. Every 1000CVP ATIS® commercial steam cleaner machine's label contains a special EPA number.
Bed bugs can transmit potentially life-threatening diseases, and the statistics show even greater proliferation of these nasty creatures within hotels, homes, business, and other facilities all over the world. Daimer®'s exclusive, patented technologies help users kill bed bugs with high temperature vapor steam flow while an extraction system removes the carcasses from the surface.
"The bed bug problem has reached a pinnacle worldwide, and efforts to contend with them effectively has been less than successful. The United States and many other countries are truly dealing with a major epidemic" states Daimer Industries, Inc.® spokesman Matthew Baratta. "Daimer®'s is proud to offer the cleaning industry's only certified pesticide steam vac device, which has even been scientifically proven to kill some of the deadliest bacteria in the world. We are pleased to help ease the major bed bug problem confronting such a large population in both cities and urban settings."
Studies have shown within the last year mostly all pest control professionals have tried to use some sort of chemical or other type of solution to kill bed bugs. In addition, over three-quarters of those responding to a survey claimed bed bugs are even more stubborn and difficult to kill than termites, cockroaches, and even ants. Homes and apartments are the leading places harboring the insects, Almost ninety percent of the professionals have worked to kill bed bugs in hotels and condos. Unfortunately, almost ninety percent of bed bug issues have occurred in single-family dwellings.
Daimer®'s KleenJet® Mega 1000CVP ATIS® steam cleaner is the upgraded version of the company's 1000CV model, and is the most innovative and powerful steam vacuum cleaner of its kind. The machine's pressure is up to 105 psi with the emission of low moisture vapor containing merely 5% water. The machine generates temperatures up to an outstanding 356°F.
The super-high vapor system temperatures help kill bed bugs within all various growth stages.
While other systems and technologies can really soak surfaces, the 1000CVP's "dry" vapor flow ensures successful bed bug extermination, while providing for drier mattresses and other surfaces after the system's application. The vapor system is not considered a carpet steam cleaner even though the machine will kill and extract bed bugs from carpeting.
This special Daimer® model is the world's only EPA-complaint steam cleaner vacuum, which includes the company's patent-pending, certified, anti-microbial technology proven scientifically to kill up to 99.999% of deadly bacteria and mold. The commercial steam cleaner even targets MRSA, E.Coli, Salmonella, and others. Daimer®'s ATIS® (Advanced Thermal Ionic Sanitization®) technology is incorporated into each and every one of the 1000CVP's boilers, and is also responsible for extracting minerals from the water while maximizing temperature and pressure levels within the boiler chamber.
The company's unique Water Extraction technology is included with the model, and captures wet and dry particles picked up from the surfaces from the 1000CVP's vacuum. The operator simply fills the vapor system's water capture chamber in preparation for system use, and discards the fluid from the chamber after the cleaning process. The extraction tank takes only seconds to remove, and the liquid can be poured down a drain, toilet, or elsewhere. This efficient process is completely absent from other brands of commercial or industrial steam cleaner machines or vapor systems lacking extraction capability.
The machines come with a lifetime boiler warranty, and are bundled with over 36 accessories and parts to handle a myriad of cleaning applications.
For Additional Information:
Visit Daimer®'s website or telephone Matthew Baratta at (888) 507-2220 to inquire about the KleenJet® Mega 1000VP ATIS® machine. The vapor steam cleaners are marketed worldwide to most nations.
About Daimer Industries, Inc.®:
Daimer Industries® is the leader in advanced commercial and industrial steam cleaner systems supplying over 600 models of various types globally. Pressure wash systems, carpet steam cleaner equipment, and other floor and hard surface machines are also available for most applications and industries in all economies.