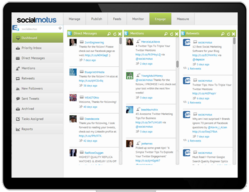 It's about time smaller companies have access to the same level of tools offered to bigger brands.
Sydney, NSW (PRWEB) November 02, 2012
SocialMotus, a new social media management tool for SMB's and agencies emerges from stealth mode to unveil in-depth team management and analytics at a fraction of the cost of similar competitors such as Argyle and Wildfire. SocialMotus provides comprehensive multi-user support, conversion tracking, integration with Google Analytics and dozens of features to help businesses create real value from social media.
Businesses are struggling to see positive business outcomes from social media due to restrained company resources. Prior to SocialMotus, no social management tool offered the ability to track ROI conversions from customized campaigns and individual posts while providing multi-user support without costing businesses several hundred dollars.
SocialMotus merges affordability with high level management and tracking, allowing businesses to gather intelligence on their social marketing performance across all Facebook and Twitter accounts. SMBs now have access to real, measureable business value from their social media initiatives without the hefty price tag.
"Twitter and Facebook are now champions of brand engagement and relationship management, providing a cost effective means for promotions, growth and improved sales. Sadly, the biggest struggle confronting mid-size businesses was the inability to accurately measure the value of their social media according to the SMB Group's latest annual social business study. The same struggle ranks second among small businesses," explained David Lin, SocialMotus founder and CEO.
SocialMotus consolidates social media monitoring, engagement, leads discovery and analytics into a manageable interface, with emphasis on social media ROI metrics. Capabilities include intelligent priority messaging system, targeted monitoring grouped by topic, access to targeted Twitter followers and customizable engagement dashboard. Clients can also expect high level social analytics tools with its Facebook and Google Analytics integration, publishing statistics and conversation tracking campaigns.
"We want companies to truly understand how they're performing and improve on that performance. Nobody has put this kind of information into a simple, easily understood console for the affordable price we're offering. It's about time smaller companies have access to the same level of tools offered to bigger brands", Mr Lin explains.
After its official launch, users can expect SocialMotus to leverage cross-platform functionality that will integrate across Facebook and Twitter, with LinkedIn coming shortly. Mr Lin further explains, "It's exciting to bring social media and conversion analytics together to enable our customers to take the next step in improving the customer experience using social networks." Businesses will have the knowledge to create meaningful connections with clients, measure the success of social efforts and understand exactly where spend to their limited time.
SocialMotus will launch with a free version for single users and an affordable introductory pricing structure starting from $9.99 per month for single users and $59.99 for up to 5 users. You can create a free account at http://www.socialmotus.com/signup.
About SocialMotus
SocialMotus is a new startup based in Sydney Australia, offering a comprehensive social management, monitoring, engagement and measurement platform. It is designed to help companies and agencies fast track their social media efforts, while accurately measuring its impact on business outcomes. SocialMotus offers a free version and paid versions supporting multi-users and conversion tracking at a fraction of the cost of similar competitors, turning social data into real, actionable engagement intelligence for more effective campaigns. For more information, visit http://www.socialmotus.com.