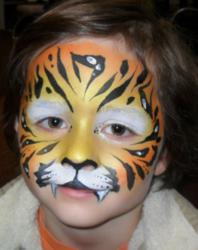 Hi Shelley, I just wanted to say a big thank you for all of your hard work last Sunday. We received such a wonderful response to how good the face painting was and what great designs you did. Thanks again, Lisa Hoersch, Veolia Environmental Services
Melbourne, Victoria (PRWEB) November 03, 2012
We Love Face Painting! artists will be easily recognizable as they walk around in their best Christmas attire with paint and brush at the ready. The group will be on hand Sunday, December 16, Monday, December 17 and Tuesday, December 18 from Noon until 2:00 PM each day. The Hoppers Crossing Quality Pharmacy is located in Shop T109 of the Werribee Plaza at the corner of Heath and Derrimut Roads in Hoppers Crossing.
We Love Face Painting! founder Shelley Bledsoe is thrilled to be working with Quality Pharmacy during their holiday events at various locations throughout Victoria and she and her staff will bring a special excitement to the events as guests wonder around. It will be easy to spot those who have encountered a We Love Face painting! face painter as they will be the ones with the unique Christmas designs on their faces. Shelley and her staff truly love face painting and Shelley is Australia's biggest advocate of the art form. When she founded We Love Face Painting! in 2007 she was determined to not only have fun dong what she loves but also bring this fun art forms to the public and bring a special feature to her client's events. Face painting is especially popular at holiday events since there are so many holiday-themed designs that can be put right on the faces of event guests.
We Love Face Painting! offers its services at corporate events, family fun days, movie day events, store openings and children's birthday parties. They specialize in temporary tattoos, adult face painting, Halloween face painting and face painting to keep the kids entertained at any function.
Those who want to learn more about this fun company and its services can visit their website at http://www.welovefacepainting.com.au or call Shelley at 0400 042 612.
ABOUT WE LOVE FACE PAINTING!
We Love Face Painting! is based in Melbourne, Victoria. The firm was established by Shelley Bledsoe in 2007. Shelley has a background in Makeup Artistry so face painting was a natural progression for her and she loves doing it! The We Love Face Painting team thoroughly loves what they do and prides themselves on their reliability, and quality work. The company's face painting designs range from popular full face to cheek art.
EVENT DETAILS
Face Painting for Quality Pharmacy
Shop T109, Werribee Plaza
Corner of Heaths and Derrimut Roads
Hoppers Crossing Vic 3029
December 16, 17 & 18, 2012
Noon – 2:00 PM