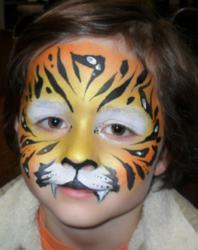 I just wanted to say a BIG Thank you to We Love Face Painting for providing a great service for our clients. All the guest had an amazing time and tattoos offered a great extra excitement to the night. Alan- Niteguide
Melbourne, Victoria (PRWEB) November 10, 2012
We Love Face Painting! artists will be sporting their Christmas finest while they paint the faces of those in attendance with the best Christmas art available in Australia. The group will be on hand Tuesday, December 18, Wednesday, December 19 and Thursday, December 20 from Noon until 2:00 PM. The Epping Medical Quality Pharmacy is located in Shop 49 of the Epping Plaza at the corner of Cooper and High Streets in Epping.
Shelley Bledsoe, owner of We Love Face Painting! will have her face painting artists on hand at various Quality Pharmacy locations throughout December to add a bit of fun and excitement to the company's holiday events. Shelley founded We Love Face Painting! in 2007 and is one of the biggest advocates of this art form. She and her staff truly love the business of face painting and she often tells her clients just how much more fin their guests will have as they get decorated by the best face painting artists in the business. Face painting is especially popular at holiday events since there are so many holiday-themed designs that can be put right on the faces of event guests.
We Love Face Painting! offers its services at corporate events, family fun days, movie day events, store openings and children's birthday parties. They specialize in temporary tattoos, adult face painting, Halloween face painting and face painting to keep the kids entertained at any function.
ABOUT WE LOVE FACE PAINTING!
We Love Face Painting! is based in Melbourne, Victoria. The firm was established by Shelley Bledsoe in 2007. Shelley has a background in Makeup Artistry so face painting was a natural progression for her and she loves doing it! The We Love Face Painting team thoroughly loves what they do and prides themselves on their reliability, and quality work. The company's face painting designs range from popular full face to cheek art.
EVENT DETAILS
Face Painting for Quality Pharmacy
Epping Medical
Shop 49, Epping Plaza
Corner of Cooper and High Streets
Epping Vic 3076
December 18, 19 & 20, 2012
Noon – 2:00 PM